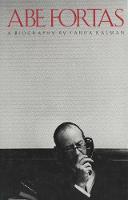 Format:

Paperback

Publication date:

29 Jul 1992

ISBN:

9780300052589

Imprint:

Dimensions:

538 pages: 229 x 152mm

Illustrations:

34 b-w illus.
Categories:
Abe Fortas was a New Dealer, a sub-cabinet official, the founder of an eminent Washington law firm, a lose adviser to Lyndon Johnson, and a Supreme Court justice. Nominated by Johnson to be Chief Justice, he was rejected by Congress and resigned from the Court early in the Nixon administration under a cloud of impending scandal. This engrossing book—the first full biography of Abe Fortas—tells his dramatic story.
Drawing on Fortas's previously unavailable personal papers, on numerous archives, and on extensive interviews with his family and associates, Laura Kalman, a historian and lawyer illuminates Fortas's evolution from New Dealer to Washington lawyer to Great Society liberal, and in so doing also provides a unique view of American liberalism from the 1930s through the 1960s.
"There was no single Abe Fortas," writes Kalman. "There was a variety of personae, and Fortas moved comfortably from one to another."
Kalman describes Fortas's various personae:
•The boy who as "Fiddlin' Abe" played the violin in dance bands to earn spending money and who grew to consider chamber music the love of his life; •The Jew who cared more about Israel than Judaism; •The civil libertarian who worked for irascible Harold Ickes as Under Secretary of the Interior during the New Deal, who defended those charged with disloyalty by Joseph McCarthy, and who promoted social justice on the Court; •The urbane corporate lawyer whose friends became clients and whose clients became friends; •The brilliant legal tactician who secured Lyndon Johnson's Senate seat in 1948 and whose successful defense of the
Gideon
case was described by William O. Douglas as "the best single argument" he heard in all his years on the Supreme Court; •The Supreme Court justice who willingly risked compromising his judicial integrity to advise President Johnson; •The man who hobnobbed with the powerful yet was powerless to combat the attacks against him when he was a Supreme Court justice, and whose resignation from the Court contributed to the destruction of the liberal agenda for social reform.
Reflecting on the various aspects of Fortas's enigmatic personality and the events of his life, Kalman creates a new portrait of the man that is more insightful and complete than any yet published. Engagingly written and superbly researched, this is the authoritative account of Fortas and the legal and political history he helped to shape.
"A superb, penetrating, fair-minded and altogether fascinating study of one of Washington's most brilliant insiders; an outstanding contribution to the history of American government that offers extraordinary insight into how things really work."?Charles A. Reich
"Compelling. . . . If Abe Fortas were alive, he might be just the guy to get Michael Milken out from under his tne-year sentence."?Michele B. Galen, Business Week
"Thorough research and [a] scholarly approach. . . . [Kalman] has performed a literary miracle of sorts."?Aaron Epstein, Knight-Ridder News
Winner of the 1991 Littleton-Griswold Prize in American Law and Society given by the American Historical Association
Winner of a 1990 American Bar Association Gavel Award-given in recognition of a noteworthy contribution to public understanding of the American system of law and justice
Received an honorable mention in the Scribes Book Awards
"Provides an inside perspective on the transformation of American public life that followed World War II and proves that history can still teach by moral example. . . . Kalman's book is notable for its thorough research, narrative depth, and intelligent commentary on Fortas' personal style and philosophy."?Allan J. Lichtman, Washington Monthly
"Great detail. . . . A useful account of how government worked in the years when it was still limited and primarily the product of individual effort and influence."?Eugene Hickok, Washington Times
"[A] fascinating biography. . . . A persuasive account of this complex, enigmatic man. . . . Kalman's thoroughly researched study reveals much about the politics of judicial appointments and the limits of presidential power. Her portrait of a brilliant man who fell from grace also raises intriguing questions about what might have been, not only for Abe Fortas but for the country."?Gary J. Aichele, Constitution
"[An] exemplary biography. . . . Lucid and gracefully written."?William E. Leuchtenburg, New Republic
"For this first full biography of Fortas, Ms. Kalman, who is also a lawyer, drew on previously unavailable personal papers and extensive interviews with his family and associates."?Ellen K. Coughlin, Chronicle of Higher Education
"Kalman rounds out her study with thoughtful chapters on her subject's life before and after the Court and on his many personal interests outside of politics and the legal profession."?Booklist
"Kalman expertly and stylishly examines [Fortas'] rise and fall as a member of the Warren Court."?Washington Jewish Weekly
"This first full-scale biography also provides a view of American liberalism from the 1930s to the 1960s."?Andrew Silow Carroll, Judaica Book News
"Related in clear and evenhanded tones. . . . Kalman deftly reveals that the final blow to Fortas' career was delivered by none other than that master dirty-trickster whose name now defines political scandal and shameful resignations, Richard Nixon."?Virginia Quarterly Review
"A superb biography of a man regarded by his contemporaries as one of the most talented lawyers of his generation. . . . With exceptional insight Kalman has probed the inner recesses of a complex personality and has captured the essence of both the public and private Abe Fortas. . . . The book is a commanding portrait of a man whose influence on American law and public policy over a half century is of incalculable significance."?Choice
"Laura Kalman's first book, Legal Realism at Yale, attracted a great deal of attention from proponents of the Critical Legal Studies (CLS) movement. . . . By documenting the rise and fall of one of the realist movement's best students, it acts as a sort of sequel to Kalman's earlier book. . . . To that extent, the new book also has important things to say to the contemporary legal community. . . . Kalman's biography does an excellent job of painting a portrait of Fortas that makes his downfall available. . . . If Abe Fortas is indeed the progeny of legal realism at Yale, readers of Kalman's earlier work cannot afford to ignore this new book."?Michael F. Colosi, Michigan Law Review
"Laura Kalman's book is a model of biographical research. She presents a full and fair account of a checkered career."?C. Herman Pritchett, Political Science Quarterly
"Fortas was massively flawed, and [Kalman] diligently details his failings. . . . Fortas' rise and fall are intriguing enough?and his contradictory, controlling personality fascinating enough?to make the book compelling."?Michele B. Galen, International Business Week
"Fortas, . . . a member of the nation's power elite for nearly 50 years, is so rich a subject, and Ms. Kalman's research so painstaking, that the book is . . . fascinating."?Steven V. Roberts, New York Times Book Review
"Brilliant. . . . [A] masterly biography."?Publishers Weekly
"Kalman's book is a worthy addition to the Fortas literature. . . . The personal touch lent to this `official' biography by the cooperation of Carolyn Agger Fortas and Mercedes Eicholz . . . guarantees the book a meaningful place among its competition. . . . Kalman's effort is thought-provoking, and valuable to anyone who identifies with the complex of personal ambitions and liberal beliefs that infused the elusive character of Mr. Fortas."?Thomas K. Landry, New York Law School Law Review
"This will remain the standard biography against which all others will be matched, and deservedly so. . . . Well done!"?Journal of American History
"Must reading for students of both judicial review and the turbulent 1960s."?Olive A. Taylor, American Historical Review
"A complex portrait of a complex man. . . . [Kalman's] Abe Fortas is as solid and balanced as one of her subject's legal briefs."?John W. Johnson, The Historian