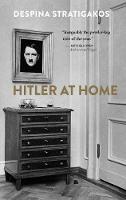 Format:

Paperback

Publication date:

02 May 2017

ISBN:

9780300222920

Imprint:

Dimensions:

384 pages: 235 x 156mm

Illustrations:

13 color + 71 b-w illus.

Sales territories:

World
Categories:
A revelatory look at the residences of Adolf Hitler, illuminating their powerful role in constructing and promoting the dictator's private persona both within Germany and abroad

Adolf Hitler's makeover from rabble-rouser to statesman coincided with a series of dramatic home renovations he undertook during the mid-1930s. This provocative book exposes the dictator's preoccupation with his private persona, which was shaped by the aesthetic and ideological management of his domestic architecture. Hitler's bachelor life stirred rumors, and the Nazi regime relied on the dictator's three dwellings—the Old Chancellery in Berlin, his apartment in Munich, and the Berghof, his mountain home on the Obersalzberg—to foster the myth of the Führer as a morally upstanding and refined man. Author Despina Stratigakos also reveals the previously untold story of Hitler's interior designer, Gerdy Troost, through newly discovered archival sources.
 
At the height of the Third Reich, media outlets around the world showcased Hitler's homes to audiences eager for behind-the-scenes stories. After the war, fascination with Hitler's domestic life continued as soldiers and journalists searched his dwellings for insights into his psychology. The book's rich illustrations, many previously unpublished, offer readers a rare glimpse into the decisions involved in the making of Hitler's homes and into the sheer power of the propaganda that influenced how the world saw him.
Despina Stratigakos is professor of architecture at the University at Buffalo, State University of New York.
". . . combines meticulous research with elegance and wit: not qualities normally associated with biographers of Adolf Hitler… Original, perceptive and immaculately edited, Hitler at Home offers a splendidly unexpected angle."—Miranda Seymour, Daily Telegraph
"Hitler at Home is a fascinating read, which reminds us that in Nazi Germany the architectural and the political can never be disentangled. Like his own confected image, Hitler's buildings cannot be divorced from their odious political hinterland."—Roger Moorhouse, Times
"Much has been written about Albert Speer's monumental schemes, but this book offers a new perspective on architecture and design under the Third Reich . . . Many previously unpublished illustrations and floor plans appear in the book, testaments to how Hitler sought to use his homes to foster an image as statesman and man of culture."—Michael Z. Wise, Wall Street Journal
". . . A page-turner. Readers with an interest in Hitler's personal life and in the effects of propaganda on international public sentiment will find this book fascinating."—Felicia J. Williamson, Library Journal
"A fine and original study of Hitler's carefully crafted domesticity."—Patrick Allington, Australian Book Review
"Despina Stratigakos's intriguinig book examines how successive remodelling of Hitler's residences in Munich, Berlin and Berchtesgaden reflected both his changing self-image, and the evolution of his representation of the people."—Neil Gregor, THES
"An unfamiliar, diligently researched, illuminating account of the means by which a singular private and social life was invented."—Jonathan Meades, London Review of Books
"A detailed investigation of an aspect of Hitler's life not much known about. . . . As always with Hitler, a carefully cultivated public image was entirely at odds with the reality."—Charlie Hegarty, Catholic Herald
"In her detailed and well-researched book, Despina Stratigakos answers the often ignored questions of how fascism is designed and housed, exposing the ideological power of combining well-crafted interiors with media-savvy propaganda . . . a significant and much needed contribution to this growing body of scholarship, Hitler at Home is also a brave book, and for that, Stratigakos must be commended."—John Potvin, Design History
"[Stratigakos] has produced a major study of architectural propaganda by revealing an important but little-known Nazi propaganda coup: the creation of Hitler the homebody. . . . It deserves to be widely read."—Brian Ladd, Central European History
#1 on KCRW Design & Architecture's "6 Most Intriguing Books of 2016" list
Shortlisted for the 2016 Wallace K. Ferguson Prize given by the Canadian Historical Association
Telegraph's "The 100 Best Books of 2015"
"In a book of rich detail, Stratigakos lays out the complex and multilayered significance of the three main residences that Adolf Hitler once called home. She shows how their designs shed new light on the instrumental use of culture by the regime, and how sensationalized meanings were projected onto the structures from abroad both during and after the Nazi period."—Paul B. Jaskot, DePaul University; Center for Advanced Study in the Visual Arts, National Gallery of Art
"Stratigakos convincingly argues that the production of Hitler's domesticity was among the regime's most successful propaganda campaigns, serving to transform Germany's leader from odd bachelor to civilized statesman."—Karen Fiss, California College of the Arts