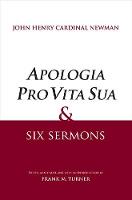 Format:

Paperback

Publication date:

10 Jan 2012

ISBN:

9780300177862

Imprint:

Dimensions:

528 pages: 235 x 156 x 40mm

Sales territories:

World
Categories:
This newly edited version of John Henry Newman's Apologia Pro Vita Sua sheds new light on Newman's celebrated account of his passage from the Church of England to the Roman Catholic Church and repositions his narrative within the context of transformative religious journeys of other Victorian intellectuals. Frank M. Turner is the first historian of Victorian thought, religion, and culture to edit Newman's classic autobiographical narrative. Drawing on extensive research in contemporary printed materials and archives, Turner's powerfully revisionist Introduction reevaluates and challenges the historical adequacy of previous interpretations of Newman's life and of the Apologia itself. He further presents Newman's volume as a response to ultramontane assertions of papal authority in the l860s.
In addition to numerous explanatory textual annotations, the volume includes an Appendix featuring six important Anglican sermons that providesignificant insights into Newman's thought during the years recounted in the Apologia.
Frank M. Turner (1944–2010) was John Hay Whitney Professor of History at Yale University. He was the author of John Henry Newman: The Challenge to Evangelical Relgion.