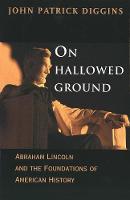 Format:

Paperback

Publication date:

15 Apr 2011

ISBN:

9780300177015

Imprint:

Dimensions:

356 pages: 229 x 152mm

Sales territories:

World
Categories:
In this provocative book, John Patrick Diggins, hailed by Alan Ryan in the New York Times as "one of the liveliest and most interesting of contemporary intellectual historians," offers a sweeping reassessment of American history, emphasizing the foundational role of Abraham Lincoln's moral and political theory. Distressed by the divisive impact of modern identity politics, Diggins argues persuasively that in the central tenets of Lincoln's political faith--the redeeming value of labor and the rights to property and self-determination--we find the purest expression of the values that have united Americans and guided American history.

With his characteristic breadth, Diggins ranges from James Madison to W. E. B. Du Bois to the movie Good Will Hunting in his examination of the often ambivalent ways in which Americans have imagined themselves and their nation. Convinced that contemporary historians have done America a grave disservice by emphasizing political divisions along the lines of class, race, and gender, Diggins points out that throughout American history there has been more that unites the American people than divides them.

?A highly original, timely, and important book, a much-needed antidote against ?generational chauvinism.???David Brion Davis
"As always, John Diggins is worth reading even?maybe especially?when one disagrees with him. On Hallowed Ground is a learned, skeptical, and often persuasive attempt to restore the liberal tradition to its rightful place at the center of American political thought."?Jackson Lears, Board of Governers Professor of History, Rutgers University
?Diggins is a master of his craft and he is in top form in this compelling work. With the late Reinhold Niebuhr, he alerts us to the tragedies, ironies, and ambiguities of our history.??Jean Bethke Elshtain, Laura Spelman Rockefeller Professor of Social and Political Ethics, University of Chicago, author of Democracy on Trial
?Part polemic, part tendentious analysis, part brilliant insight, this is not a book to leave its readers bored or wondering why one would write on such a topic; in Diggins?s prose the life forces that move him to his task are visible. . . . There is no doubt that this is a significant statement in our current context.??Michael P. Zuckert, American Historical Review
?In this series of challenging essays, John Patrick Diggins, one of our leading intellectual historians, lays out a master plan for American history on the consensus model. . . . Issues are raised on a variety of fronts and informed by materials gathered from all over the historical landscape. This broad reach means that every reader will benefit from meeting new commentators or seeing familiar faces in a different light.??Journal of Illinois History
?Examining one by one the three core pillars of Lincoln?s political philosophy?the need for Emersonian self-reliance, the sanctity of private property, and the necessity for self-determination?Diggins . . . explains their applicability throughout American history. Lincoln?s vision, he argues, was nearly 100 years old by the time he most eloquently articulated it and has animated and united every aspect of the American experience since 1776?and continues to do so now. Polemical and erudite, this book is bound to ruffle a lot of feathers.??Publishers Weekly
?Diggins offers an accessible restatement of classical liberalism?s assumptions of conflict within a framework of consensus, which is an alternative to the contemporary celebration of diversity as a value in itself.??David Zarefsky, Rhetoric & Public Affairs
?The battle that is now taking shape over the American past is a distinctively American battle, in which the question ?who are we?? is decisive. Mr. Diggins?s book . . . leaves the impression that this time so much more is at stake because the real answer to ?Who are we?? may be nothing more nor less than this: we are a nation with a particular past. And that terrain is now as bloodied as Gettysburg.??Edward Rothstein, The New York Times