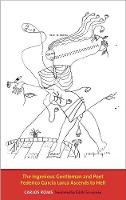 The Ingenious Gentleman and Poet Federico García Lorca Ascends to Hell Carlos Rojas, Edith Grossman
Series:

Format:

Paperback

Publication date:

29 Apr 2014

ISBN:

9780300205862

Imprint:

Dimensions:

224 pages: 197 x 127mm

Sales territories:

World
Categories:
A modern Spanish masterpiece by one of the most extraordinary novelists of our time

In Carlos Rojas's imaginative novel, the Spanish poet Federico García Lorca, murdered by Francoist rebels in August 1936, finds himself in an inferno that somehow resembles Breughel's Tower of Babel. He sits alone in a small theater in this private hell, viewing scenes from his own life performed over and over and over. Unexpectedly, two doppelgängers appear, one a middle-aged Lorca, the other an irascible octogenarian self, and the poet faces a nightmarish confusion of alternative identities and destinies.
Carlos Rojas uses a fantastic premise—García Lorca in hell—to reexamine the poet's life and speculate on alternatives to his tragic end. Rojas creates with a surrealist's eye and a moral philosopher's mind. He conjures a profoundly original world, and in so doing earns a place among such international peers as Gabriel García Márquez, Philip Roth, J. M. Coetzee, and José Saramago.
A novelist, an art historian, and since the age of fifty a creator of visual works of art, Carlos Rojas is Charles Howard Candler Professor of Spanish Emeritus at Emory University. He has received numerous important Spanish literary prizes, including the Premio Nadal. Edith Grossman is a renowned translator of works by major Latin American and Peninsular writers.
?As intelligent and audacious a meditation on art, fate and mortality as anyone could hope to read.? ?Los Angeles Times
El ingenioso hidalgo y poeta Federico García Lorca asciende a los Infiernos, awarded the Premio Nadal, presents a vision of Lorca's 'dream of reason' that evokes real and imaginary visions of the poet's death at the hands of a Fascist death squad in 1936. This journey through Lorca and C.R.'s involuntary memory brings to life figures, landscapes and events that frame the preamble to the Spanish Civil War. Edith Grossman's masterful and impeccable translation preserves and enhances the voice of Carlos Rojas's magical prose. –Pedro F. Campa, University of Tennessee at Chattanooga
Carlos Rojas's dazzling well-written narrative of Lorca in Hell, skillfully translated by Edith Grossman, reminds us ' . . . that the poet's obligation is to invent the past that men [and women] forget . . . '–Joseph Tyler, University of West Georgia and University of Michigan-Flint
Both author and translator combine their talents (in a true Doppelg"enger) and deliver a clever and extraordinary tale of dreams and nightmares based on Lorca?s fact and fiction. Well done! ÿ ?Joseph Tyler, University of West Georgia and University of Michigan-Flint ÿ
Carlos Rojas is the most creative and imaginative of the post-war Spanish writers—the group that has been called the Generation of 1950—and is certainly one of the extraordinary novelists of the twentieth century in any language. He brings the eye of a surrealist and the mind of a moral philosopher to his depictions of the raw internal conflicts that define not only individual lives (whether historical or fictional) but the lives of nations as well.–Edith Grossman, author of Why Translation Matters
?The richness of Rojas?s writing isn?t random creativity; it?s rooted in a deep and insightful knowledge of his subject, making the book exceptional.? ?Publishers Weekly, starred review
?Mr. Rojas includes a number of shrewd homages to his subject, from echoes of poems to the kind of story-within-a-story structures that Lorca used in his dramas. But more important, this moving tribute cuts to the heart of the dichotomy of the poet's troubled immortality.? ?Sam Sacks, TheÿWall Street Journal
"In Carlos Rojas' splendid and wildly creative novel, The Ingenious Gentleman and Poet Federico Garcia Lorca Ascends to Hell, the dead writer watches his last, fateful days replayed in a private theater in the underworld. . . as intelligent and audacious a meditation on art, fate and mortality as anyone could hope to read." —Los Angeles Times
Mixing the grotesque and the tragic in the tradition of Cervantes, Goya, or Valle-Incl n, Carlos Rojas has crafted an astonishing phantasmagoria on Lorca?s death and imaginary afterlife. Edith Grossman?s pitch-perfect translation beautifully conveys the narrative force of Rojas?s original text. ?Carlos Feal, SUNY at Buffalo ÿ