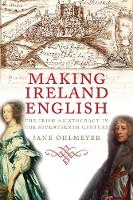 Making Ireland English The Irish Aristocracy in the Seventeenth Century Jane Ohlmeyer
Format:

Paperback

Publication date:

12 Dec 2017

ISBN:

9780300236569

Imprint:

Dimensions:

680 pages: 235 x 156mm

Illustrations:

24 b-w illus.

Sales territories:

World
Categories:
This groundbreaking book provides the first comprehensive study of the remaking of Ireland's aristocracy during the seventeenth century. It is a study of the Irish peerage and its role in the establishment of English control over Ireland. Jane Ohlmeyer's research in the archives of the era yields a major new understanding of early Irish and British elite, and it offers fresh perspectives on the experiences of the Irish, English, and Scottish lords in wider British and continental contexts.
The book examines the resident peerage as an aggregate of 91 families, not simply 311 individuals, and demonstrates how a reconstituted peerage of mixed faith and ethnicity assimilated the established Catholic aristocracy. Tracking the impact of colonization, civil war, and other significant factors on the fortunes of the peerage in Ireland, Ohlmeyer arrives at a fresh assessment of the key accomplishment of the new Irish elite: making Ireland English.
Jane Ohlmeyer is Erasmus Smith's Professor of Modern History and Vice-Provost for Global Relations, Trinity College, Dublin. She is the author of Civil War and Restoration in the Three Stuart Kingdoms and Ireland from Independence to Occupation. She lives in Dublin, Ireland.
Selected as a Choice Outstanding Academic Title 2012 for subcategory United Kingdom within the Social and Behavioral Sciences category.

'In Making Ireland English, Jane Ohlmeyer breathes life into the variegated group who were included within the ranks of Ireland's nobility during the seventeenth and eighteenth centuries. She displays great erudition, proceeds at a cracking pace on a broad canvas, and frequently surprises with arresting nuggets, in particular detailing how those who would ostensibly be the prime upholders of Church of Ireland Protestantism offered tacit tolerance of Catholic practice when this was the religion favoured by themselves or their kin.' - Nicholas Canny, National University of Ireland, Galway

'This is the most important single contribution to the study of the early modern British noble elite since Lawrence Stone's The Crisis of the Aristocracy 1558-1641, published almost half a century ago. It transforms both our knowledge of Ireland's new aristocracy and our understanding of the extension of London's control during the seventeenth century, with its profound implications for later Irish and British history.' - Hamish Scott, University of St Andrews