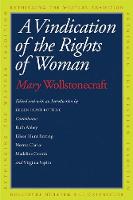 Series:

Format:

Paperback

Publication date:

26 Aug 2014

ISBN:

9780300176476

Imprint:

Dimensions:

368 pages: 210 x 140 x 24mm

Sales territories:

World
Categories:
Mary Wollstonecraft's visionary treatise, originally published in 1792, was the first book to present women's rights as an issue of universal human rights. Ideal for coursework and classroom study, this comprehensive edition of Wollstonecraft's groundbreaking feminist argument includes illuminating essays by leading scholars that highlight the author's significant contributions to modern political philosophy, making a powerful case for her as one of the most substantive political thinkers of the Enlightenment era. No other scholarly work to date has examined as closely both the ideological moorings and the enduring legacy of Wollstonecraft's courageous discourse.
Mary Wollstonecraft (1759–1797) was a British writer, philosopher, and advocate of women's rights. Eileen Hunt Botting is associate professor of political science at the University of Notre Dame.
"This is the first edition of the Vindication to make a comprehensive case for Wollstonecraft as a persistent point of reference within the western tradition and as a substantive political thinker who argued for women?s rights as human rights. " - David Armitage, author of Foundations of Modern International Thought (Cambridge University Press, 2012)
"This book highlights the continued relevance and weight of Wollstonecraft?s thought, places it within contemporary debates and provides a most useful account of its historical context and reception.ÿ It will provide a uniquely valuable resource to students of Wollstonecraft as well as feminism." - Sylvana Tomaselli, Sir Harry Hinsley Lecturer in History, St John's College, Cambridge