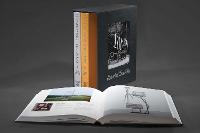 David Smith Sculpture A Catalogue Raisonne, 1932-1965 The Estate of David Smith
Format:

Hardback

Publication date:

25 May 2021

ISBN:

9780300224115

Imprint:

Dimensions:

1312 pages: 305 x 254mm

Illustrations:

1,600 color + b-w illus.
Embracing factory methods of construction, building on the legacy of cubism, and turning his back on European carving and casting traditions, David Smith (1906–65) transformed postwar sculpture. His body of work, contemporary with the New York School in painting, and his pioneering placement of sculptures in a natural setting are foundational for present-day sculpture and installation art. This three-volume boxed set comprehensively details the entirety of Smith's sculptural oeuvre. It is now the definitive catalogue raisonné and supplants the one constructed by Rosalind Kraus in 1977. Edited by Christopher Lyon, based on Research Editor Susan J. Cooke's efforts, the volumes also contain a Foreword by Rebecca and Candida Smith, essays by Michael Brenson, Sarah Hamill, Marc-Christian Roussel, Chrisotpher Lyon, and a chronology by Tracee Ng. Throughout the volumes, reproductions of documents and images, including many photographs, paintings, drawings, and sketches by the artist, offer fresh insights into Smith's methods and creative thought. Handsomely designed and generously illustrated with fine color reproductions, this catalogue raisonné is both a sumptuous object and an essential scholarly resource.
The Estate of the David Smith is dedicated to preserving the legacy of artist David Smith through the promotion of exhibitions, publications, research, and scholarship. It is based in New York City and Bolton Landing, NY.