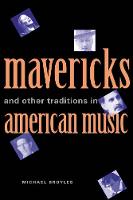 Mavericks and Other Traditions in American Music Michael Broyles
Format:

Paperback

Publication date:

11 Jun 2013

ISBN:

9780300199765

Imprint:

Dimensions:

400 pages: 235 x 156mm

Illustrations:

27 b-w illus.

Sales territories:

World
Categories:
From colonial times to the present, American composers have lived on the fringes of society and defined themselves in large part as outsiders. In this stimulating book Michael Broyles considers the tradition of maverick composers and explores what these mavericks reveal about American attitudes toward the arts and about American society itself.
Broyles starts by examining the careers of three notably unconventional composers: William Billings in the eighteenth century, Anthony Philip Heinrich in the nineteenth, and Charles Ives in the twentieth. All three had unusual lives, wrote music that many considered incomprehensible, and are now recognized as key figures in the development of American music. Broyles goes on to investigate the proliferation of eccentric individualism in all types of American music—classical, popular, and jazz—and how it has come to dominate the image of diverse creative artists from John Cage to Frank Zappa. The history of the maverick tradition, Broyles shows, has much to tell us about the role of music in American culture and the tension between individualism and community in the American consciousness.
Michael Broyles is distinguished professor of music, professor of American history, and fellow of the Institute for Arts and Humanities, Pennsylvania State University.
Selected as an Outstanding Academic Title for 2005 by
Choice Magazine
"Broyles ambitiously strides across two-and-a-half centuries of American music, tracking the myth of the 'rebel' or 'maverick.' A massive think-piece, this book fuses historical narrative with cultural criticism—simultaneously wise, reflective, and provocative."—Carol J. Oja, Harvard University, author of Making Music Modern: New York in the 1920s
"A study like this, which covers so broad a territory and centers on such an appealing theme, will be of interest not only to scholars of music, history, and culture, but a broad public as well. This will be one of the most significant books ever published about American music or American culture in general."—J. Peter Burkholder, President, American Musicological Society, OR author of Charles Ives: The Ideas Behind the Music and All Made of Tunes: Charles Ives and the Uses of Musical Borrowing
"Americans value our mavericks, and we need them. This splendid, far-reaching, long-overdue book fills in the musical side of the maverick tradition. In the process, it provides a social history of the U.S. through the prism of music--and does it in lucid and lively prose."—Jan Swafford, composer and author of Charles Ives: A Life with Music
"Mavericks and Other Traditions in American Music is tremendously impressive—a book that will become one of the important reference works on my shelf."—Kyle Gann, author of American Music in the Twentieth Century, Associate Professor, Bard College