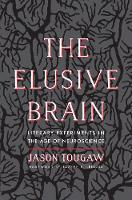 The Elusive Brain Literary Experiments in the Age of Neuroscience Jason Tougaw, Joseph E. LeDoux
Format:

Hardback

Publication date:

24 Apr 2018

ISBN:

9780300221176

Imprint:

Dimensions:

288 pages: 235 x 156 x 24mm

Illustrations:

20 b-w illus.

Sales territories:

World
Categories:
Featuring a foreword by renowned neuroscientist Joseph E. LeDoux, The Elusive Brain is an illuminating, comprehensive survey of contemporary literature's engagement with neuroscience. This fascinating book explores how literature interacts with neuroscience to provide a better understanding of the brain's relationship to the self.

Jason Tougaw surveys the work of contemporary writers—including Oliver Sacks, Temple Grandin, Richard Powers, Siri Hustvedt, and Tito Rajarshi Mukhopadhyay—analyzing the way they experiment with literary forms to frame new views of the immaterial experiences that compose a self. He argues that their work offers a necessary counterbalance to a wider cultural neuromania that seeks out purely neural explanations for human behaviors as varied as reading, economics, empathy, and racism. Building on recent scholarship, Tougaw's evenhanded account will be an original contribution to the growing field of neuroscience and literature.
Jason Tougaw
is associate professor of English at Queens College, City University of New York. He is the author of
The One You Get: Portrait of a Family Organism
and
Strange Cases: The Medical Case History and the British Novel.
He blogs at
californica.net
.
Winner of the Outstanding Academic Title for 2018 award sponsored by Choice
"A remarkably sane book. Tougaw's analyses show a supple and adroit mind at work."—N. Katherine Hayles, author of
Unthought: The Power of the Cognitive Nonconscious
"This excellent book on the relationship between the brain and experimental literature weaves together original and compelling intellectual strands that ultimately have much to say about not only contemporary neuroliterary work, but also about our present moment. With rigor and originality, Tougaw paves the way for a new type of thinking that will push the boundaries of multidisciplinary investigation."—Sebastian Groes, University of Wolverhampton, UK
"Through his astute analysis of the literature that has come in the wake of neuromania, Tougaw deftly undermines the schisms that usually plague debates about psyche, soma, and world to reveal the complex ambiguities in both the science and the art of the brain."—Siri Hustvedt, author of
A Woman Looking at Men Looking at Women
"Tougaw's provocative deep dive into the burgeoning genre of literature informed by brain science -- from 'neuronovels' to autistic autobiographies and beyond -- should be of interest to anyone concerned with the essential questions of what makes us human, how we narrate our own experience, and the shifting boundaries of brain, mind, self, and society."—Steve Silberman, author of
NeuroTribes: The Legacy of Autism and the Future of Neurodiversity
"
The Elusive Brain
is a stunning book that does more than bridge literary studies and the neurosciences. This book uses contemporary literature and culture to explore the deepest questions raised by 21st century understandings of the brain and the nervous system. Readers of literature, cultural studies, philosophy, psychology and neuroscience will be fascinated by this interdisciplinary study of the brain, self and culture."—Victoria Pitts-Taylor, author of
The Brain's Body