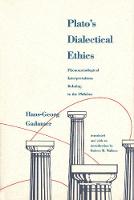 Plato's Dialectical Ethics Phenomenological Interpretations Relating to the Philebus Hans-Georg Gadamer, Robert M. Wallace
Format:

Paperback

Publication date:

02 Mar 2009

ISBN:

9780300159745

Imprint:

Dimensions:

240 pages: 229 x 152 x 16mm

Sales territories:

World
Categories:
Plato's Dialectical Ethics, Gadamer's earliest work, has now been translated into English for the first time. This classic book, published in 1931 and reprinted in 1967 and 1982, is still important today. It is one of the most extensive and imaginative interpretations of Plato's Philebus and an ideal introduction to Gadamer's thinking. It shows how his influential hermeneutics emerged from the application of his teacher Martin Heidegger's phenomenological method to classical texts and problems.

The work consists of two chapters. The first, which puts Socratic/Platonic dialectics and ethics in the context of Gadamer's thinking about how we come to shared understanding through conversation, helps to clarify the intentions and trajectory of all Gadamer's subsequent work.

The second chapter, on the Philebus, will interest everyone who is concerned with the connection between Plato's discussions of ethics and those of Aristotle, and with the substantive issues of the relation between pleasure and reason that Plato explores and Gadamer interprets. This edition includes a new and useful introduction by the translator, Robert M. Wallace.
"Plato's Dialectical Ethics is of interest both for the originality of its interpretation of Plato and as Gadamer's most detailed attempt to apply his hermeneutic theory to the interpretation of a particular text."?Choice
"The clarity and justness of the interpretation and the soundness of the philosophical judgement make this a fine book on Plato and, in this reviewer's opinion, the best work on the Philebus in this century."?Christopher Colvin, American Catholic Philosophical Quarterly
"A welcome arrival both for those interested in the dialogic character of Plato's works and for the many now actively studying the Philebus. . . . The translation . . . is very good."?David C. Mirhady, Classical World
"An important and weighty book from which one can learn much. The translation is clear throughout."?Christopher Bruell, Review of Politics