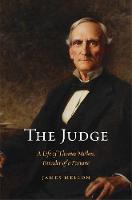 The Judge A Life of Thomas Mellon, Founder of a Fortune James Mellon
Format:

Hardback

Publication date:

24 May 2011

ISBN:

9780300167146

Imprint:

Dimensions:

592 pages: 235 x 156 x 43mm

Illustrations:

64

Sales territories:

World
Categories:
Lawyer, judge, banker, classics professor, and councilman, Thomas Mellon greatly influenced the fortunes of his hometown, Pittsburgh, throughout the nineteenth century. In the process, he became one of the city's most important business leaders, and he laid the foundation for a family that would contribute considerably to the city's growth and welfare for much of the next hundred years, becoming one of the world's most recognizable names in industry, innovation, and philanthropy. Through his in-depth examination of the extensive Mellon family archives, in The Judge James Mellon—a direct descendent of Thomas Mellon—has fashioned an incisive portrait of the elder Mellon that presents the man in full. Offering a singular and insightful characterization of the Scotch-Irish value system that governed the patriarch's work and life, James Mellon captures the judge's complexities and contradictions, revealing him as a truly human figure. 
Among the recent biographies of Pittsburgh's famous businessmen, The Judge stands apart from the pack because of the author's unique perspective and his objective and scholarly approach to his subject.
James Mellon is the author of African Hunter and The Face of Lincoln; he is coeditor of Bullwhip Days: The Slaves Remember. He lives in New York City.
"A remarkably objective portrait . . . A truly American generational saga, one with profound implications not only for one man's family, but for the entire country as well. Specialists and students of American history will benefit enormously from this splendidly written and researched work. Highly recommended."—Richard Drezen, Library Journal
"A well-researched biography that could go far to help people better understand the family patriarch."—The Weekly Standard
"[Mellon's] well-written autobiography, completed in 1885 and republished in 1994, provides valuable insights into his entrepreneurial activities, notes his emphasis on education and family, and contains judgmental commentary on controversial issues of his day."—R.M. Hyser, Choice
"Valuable…Highly recommended."—Choice