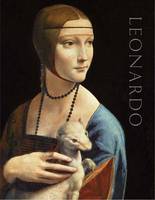 Leonardo da Vinci Painter at the Court of Milan Luke Syson
Format:

Hardback

Publication date:

15 Nov 2011

ISBN:

9781857094916

Imprint:

Dimensions:

320 pages: 324 x 241mm

Illustrations:

255 color + 11 b-w illus.
Categories:
Leonardo da Vinci's reputation as an inventor and scientist, and the complexity of his creativity and personality, have sometimes almost overshadowed the importance of his aims and techniques as a painter.

This catalogue focuses on a crucial period in the 1480s and '90s when, as a salaried court artist to Duke Ludovico Sforza in the city-state of Milan, freed from the pressures of making a living in the commercially-minded Florentine republic, Leonardo produced some of the most celebrated - and influential - work of his career. "The Last Supper", his two versions of "The Virgin of the Rocks", and the beautiful portrait of Cecilia Gallerani, Ludovico's mistress ("The Lady with an Ermine") were paintings that set a new standard for his Milanese contemporaries.

Leonardo's style was magnified, through collaboration and imitation, to become the visual language of the regime, and by the time of his return to Florence in 1500, his status was utterly transformed. "Works from British, US and European" collections represent the diverse range of Leonardo's artistic output, from drawings in chalk, ink or metalpoint to full-scale oil paintings. Together with the authors' meticulous research and detailed analysis, they demonstrate Leonardo's consummate skill
and extraordinary ambition as a painter.

This catalogue accompanies the major exhibition Leonardo da Vinci:
Painter at the Court of Milan at the National Gallery
(London: 9 November 2011 - 5 February 2012).
Luke Syson is Iris and B. Gerald Cantor Curator in Charge of the Department of European Sculpture and Decorative Arts at The Metropolitan Museum of Art. He was formerly Curator of Italian Paintings before 1500 and Head of Research at the National Gallery, London. Contibutors Larry Keith, Arturo Galansino, Antonio Mazzotta, Minna Moore Ede, Scott Nethersole and Per Rumberg are all present or former members of staff at the National Gallery.
"The current Leonardo exhibition at the National Gallery looks set to go down in the annals as among the most spectacular shows of our century. And the catalogue that accompanies it is far more that a mere memento. Leonardo: Painter at the Court of Milan presents a thoroughly scholarly and extensively illustrated piece of work that subtly shifts the emphasis of how we have come to look at this Renaissance master... It is written with refreshing clarity and infused with it's author's manifest passion for the work."—Rachel Campbell-Johnston, The Times

"The superbly produced catalogue by Luke Syson and Larry Keith is as measured, thoughtful, and original as any I've read. In terms of art history, their understanding of Leonardo is the new gold standard."—Richard Dorment, The Telegraph

"Full of up-to-the-minute scholarship, is sumptuously tempting."—Michael Glover, The Independent

"If you missed the famous Da Vinci exhibition at The National Gallery, this is a treasure book which will make you feel as though you were there. Packed with beautiful pictures, there is also a wealth of information about the painter and the stories behind his work."—Sophie King, Sidmouth Herald

"For all those who attended the exhibition, and even more so for those who failed to get tickets, it is an essential purchase."—The Art Magazine