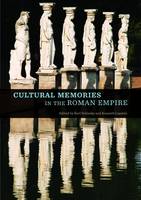 Format:

Hardback

Publication date:

16 Feb 2016

ISBN:

9781606064627

Imprint:

Dimensions:

376 pages: 280 x 194 x 22mm

Illustrations:

99 b/w illus., 13 line drawings
Categories:
Memory studies -- one of the most vibrant research fields of the present day -- brings together such diverse disciplines as art and archaeology, history, religion, literature, sociology, media studies, and neuroscience. In scholarship on ancient Rome, studies of social and cultural memory complement traditional approaches, opening up new horizons as we contemplate the ancient world. The fifteen essays presented here explore memory in the Roman Empire, addressing a wide spectrum of cultural phenomena from a range of approaches. Ancient Rome was a memory culture par excellence and memory pervades all aspects of Roman culture, from literature and art to religion and politics. This volume is the first to address the cultural artifacts of Rome through the lens of memory studies. An essential guide to the material culture of Rome, this book brings important new concepts to the fore for both scholars of the ancient world and those of social and cultural memory throughout human history.
Karl Galinsky is Floyd A. Cailloux Centennial Professor of Classics and Distinguished Teaching Professor at the University of Texas at Austin. Kenneth Lapatin is associate curator of antiquities at the J. Paul Getty Museum and is most recently the coeditor of Power and Pathos: Bronze Sculpture of the Hellenistic World (Getty Publications, 2015) and author of Luxus: The Sumptuous Arts of Greece and Rome (Getty Publications, 2015).