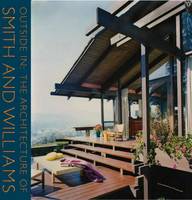 Series:

Format:

Hardback

Publication date:

17 Mar 2015

ISBN:

9781606064511

Imprint:

Dimensions:

192 pages: 260 x 256 x 23mm
This is an eye-opening tour through the exuberant works of two pioneering postwar architects. From 1946 to 1973, Whitney Rowland Smith and his partner, Wayne Williams, designed more than 800 projects, from residential, commercial, and public buildings to housing tracts, multi-use complexes, and parks and master plans for cities. Working in the wake of the first generation of avant-garde architects in Southern California and riding the postwar building boom, their firm, Smith and Williams, developed a pragmatic modernism that, through remarkable planning and design, integrated landscapes with buildings and decisively shaped the modern vocabulary of architecture in Los Angeles. Through a breathtaking array of images, Outside In unveils the core of Smith and Williams' architectural practice. Their most influential designs, the authors show, are compositions of balanced opposites: shelter and openness, private and public, restraint and exuberance, light and shadow. Smith and Williams created spaciousness in their buildings by layering spaces and manipulating the relationship between structure and landscape. This spaciousness expressed modern ideas about the relationship of architecture to environment, of building to site, and, ultimately, of outside to in.
JOCELYN GIBBS is curator at the Art, Design & Architecture Museum at the University of California, Santa Barbara. DEBI HOWELL-ARDILA is an architectural historian at SWCA Environmental Consultants in Pasadena, California. ANTHONY DENZER is associate professor of architectural engineering at the University of Wyoming. LILIAN PFAFF is the cofounder of the Foundation Architecktur Dialoge where she is also a curator and editor. ALAN HESS is an architect, author, lecturer, and advocate for twentieth-century architectural preservation.