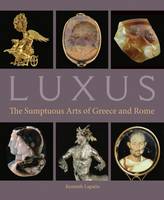 Series:

Format:

Hardback

Publication date:

14 Jul 2015

ISBN:

9781606064221

Imprint:

Dimensions:

296 pages: 293 x 237 x 28mm
Categories:
This elegantly produced book brings the luxury arts of antiquity back into brilliant life. In contrast to other histories of ancient art that typically privilege well-preserved works of ceramics or stone, Luxus offers an integrated contextual analysis of artifacts fashioned from a wide variety of luxury materials, which survive in far greater number than is typically supposed. These include gold and silver, semiprecious hard stones, and organic materials, such as ivory, fine woods, amber, pearl, coral, and textiles. Examining some of the finest surviving examples of ancient craftsmanship, renowned expert Kenneth Lapatin approaches objects in these diverse media from a variety of viewpoints, providing a valuable model for a more pluralistic approach to visual culture with the greater goal of reinvigorating the study of ancient art and society. As its title implies, Luxus is richly illustrated, containing over 200 images of superb works located in collections throughout the world. Each plate is accompanied by extensive documentation and discursive commentary. An introductory chapter explores the ideologies and uses of the luxury arts in ancient Greece and Rome, considers ancient debates about their value, and traces their decline in modern historiography. The book then goes on to address a broad range of luxury goods, such as intaglios, cameos, vessels, and statuettes, providing a full and multifaceted account of luxury in the ancient world.
KENNETH LAPATIN is associate curator in the Department of Antiquities at the J. Paul Getty Museum. He is the editor of The Berthouville Silver Treasure and Roman Luxury (Getty Publications, 2014), and coeditor of The Last Days of Pompeii: Decadence, Apocalypse, Resurrection (Getty Publications, 2012).