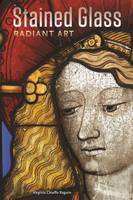 Format:

Paperback / softback

Publication date:

12 Sep 2013

ISBN:

9781606061534

Imprint:

Dimensions:

112 pages: 230 x 154 x 10mm

Illustrations:

80 full-colour illustrations
Categories:
This is a beautifully illustrated discussion on the making of stained glass and its enduring iconography. Stained glass is a monumental art, a corporate enterprise dependent on collaboration between patron and artist. Combining the fields now known as decorative arts, architecture, and painting, the window transforms our experience of space. Windows of coloured glass were essential features of medieval and Renaissance buildings - they provided not only light but also specific and permanent imagery that proclaimed the importance of place. Beautifully illustrated, this volume addresses the making of a stained glass window, its iconography and architectural context, the patrons and collectors, and the challenges of restoration and display. The featured works include examples from Austria, Belgium, England, France, Germany, and the Netherlands, and cover a range of subjects from religious scenes to heraldic panels and secular scenes.
Virginia Chieffo Raguin is distinguished professor of humanities at the College of the Holy Cross, Massachusetts, and a member of the International Corpus Vitrearum.