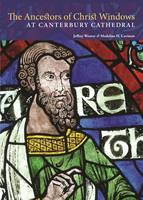 Format:

Paperback / softback

Publication date:

12 Sep 2013

ISBN:

9781606061466

Imprint:

Dimensions:

104 pages: 277 x 198 x 9mm

Illustrations:

63 full-colour & 5 b&w illustrations
Categories:
This is an illuminating look at some of the oldest stained glass - and most famous medieval paintings - in all of England. Eighty-six near life-size figures of the male ancestors of Christ once looked down on the choir and eastern extension of the medieval cathedral and priory church of Canterbury. Made of stained glass, the ancestors of Christ windows illuminated liturgical areas all year round. Dating from the 12th-century, the surviving windows from the series are among the oldest panels of stained glass in England, and are significant examples of what was at the time a relatively new art - monumental stained glass. This luminously illustrated book discusses the original context, iconographic program, and stylistic development of the windows, as well as exploring how the windows were perceived.
Jeffrey Weaver is associate curator in the Department of Sculpture and Decorative Arts at the J. Paul Getty Museum. Madeline Caviness is Mary Richardson Professor Emeritus in the Department of Art and Art History at Tufts University, Massachusetts.