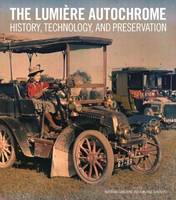 Format:

Paperback / softback

Publication date:

05 Dec 2013

ISBN:

9781606061251

Imprint:

Dimensions:

380 pages: 260 x 231 x 30mm

Illustrations:

225 colour & 75 b&w photographs
Categories:
This is a thoroughly illustrated guide to the history and technology of autochromes with a practical guide for storage & preservation. Louis Lumiere is perhaps best known for his seminal role in the invention of cinema, but his most important contribution to the history of photography was the autochrome. Engagingly written and superbly illustrated with over 300 images, "The Lumiere Autochrome" tells the fascinating story of the first industrially produced form of colour photography. Initial chapters present the Lumiere family enterprise, set out the challenges posed by early colour photography, and recount the invention, rise, and eventual decline of the autochrome, which for the first four decades of the 20th-century was the most widely used form of commercial colour photography. The book then treats the technology of the autochrome, including the technical challenges of plate fabrication, described in step-by-step detail, and a thorough account of autochrome manufacture. A final chapter provides in-depth recommendations concerning the preservation of these vulnerable objects, including proper storage and display guidelines.
Bertarnd Lavedrine is director of the Centre de reserche sur la conservation des collections (CRCC) in Paris. Jean-Paul Gandolfo teaches at the Ecole nationale superieure Louis-Lumiere near Paris.