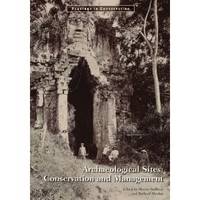 Format:

Paperback / softback

Publication date:

03 Jan 2013

ISBN:

9781606061244

Imprint:

Dimensions:

736 pages: 254 x 178 x 41mm

Illustrations:

29 colour & 21 b&w illustrations
Categories:
This title is an insightful collection of essays and reports examining key issues in the conservation and management of archaeological sites. The fifth volume in the Getty's "Readings in Conservation" series features more than seventy texts that have made important contributions to the understanding of the conservation and management of archaeological sites, addressing key issues from both a historical and a contemporary perspective. The readings cover a broad spectrum of site types, geographic locations, cultural contexts, and methodological approaches and techniques. They range chronologically from early eighteenth-century memoirs and late nineteenth - and early twentieth-century texts by such pioneers as Heinrich Schliemann and Sir Arthur Evans to a thorough representation of recent scholarship. The volume is divided into five parts focusing on historical methods, concepts, and issues; conserving the archaeological resource; the physical conservation of archaeological sites; the cultural values of archaeological sites; and site management.
Sharon Sullivan is an adjunct professor at three Australian universities and a member of the Australian Heritage Council. Richard Mackay is an adjunct professor at La Trobe University in Melbourne.