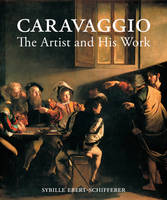 Format:

Hardback

Publication date:

12 Jul 2012

ISBN:

9781606060957

Imprint:

Dimensions:

320 pages: 322 x 267 x 29mm

Illustrations:

180 full-colour illustrations
Categories:
This is a fascinating re-evaluation of the life and works of a hugely talented yet controversial artist. The young Michelangelo Merisi da Caravaggio (1571-1610) created a major stir in late-sixteenth-century Rome with the groundbreaking naturalism and highly charged emotionalism of his paintings. "Caravaggio" is a sumptuously illustrated and engagingly written volume that takes a fresh look at Caravaggio's life and works, uncovering evidence that the efforts of Caravaggio's contemporaries to disparage his character and his artwork often sprang from their own cultural biases or a desire to promote the artistic achievements of his rivals, and that contrary to repeated claims, Caravaggio lacked neither education nor piety, but was an extremely accomplished technician who developed a successful marketing strategy.
Sybille Ebert-Schifferer is the director of the Bibliotheca Hertziana at the Max Planck Institute for Art History in Rome.