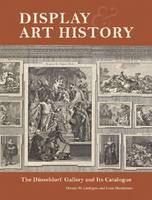 Format:

Paperback / softback

Publication date:

29 Sep 2011

ISBN:

9781606060926

Imprint:

Dimensions:

104 pages: 276 x 202 x 9mm

Illustrations:

70 colour illustrations & 20 b&w illustrations
Categories:
This is a superbly illustrated exploration of the first modern art catalogue, its creation and its legacy. This richly illustrated book examines the making of the first modern catalogue - La galerie electorale de Dusseldorff. Published in 1778, the revolutionary two-volume publication showcases one of the most important European painting collections of the eighteenth century, reflecting a pivotal moment in the history of art as well as the history of the art museum. In two essays, the authors analyse the process by which the catalogue was produced and shed light on the historical and cultural context that gave rise to an innovative and didactic way of displaying paintings - and, by extension, to art history as a discipline.
Thomas W. Gaehtgens is director of the Getty Research Institute and former Director of the German Centre for the History of Art in Paris. Louis Marchesano is curator of prints and drawings at the Getty Research Institute.