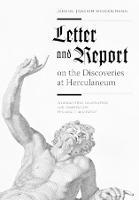 Format:

Paperback / softback

Publication date:

08 Sep 2011

ISBN:

9781606060896

Imprint:

Dimensions:

230 pages: 256 x 178 x 20mm

Illustrations:

Illustrations, black and white
Categories:
This new translation brings to light the early days of scientific archaeology and the unearthing and study of Herculaneum and Pompeii as observed by the erudite and acerbic art historian Johann Joachim Winckelmann (1717-1768). His Letter, published in German in 1762, displays his extensive knowledge of geology, ancient literature, and art while offering a scathing critique of the Spanish Bourbon excavations around the Bay of Naples and of the officials involved. He further discusses these topics in his equally controversial Report of 1764. The introduction describes the context in which these texts were written, identifies various politicians, academics, and collectors, and elucidates topics of particular interest to Winckelmann, from artifacts to local customs to the contents of ancient papyri. The illustrations, particularly those from the Bourbon publication--Le Antichita di Ercolano (1757-92)--illuminate how these monuments influenced contemporary perception of the ancient world.
Johann Joachim Winckelmann was a groundbreaking Prussian art historian whose History of Ancient Art (1764) outlined a chronology of all ancient art. Carol C. Mattusch is Mathy Professor of Art History at George Mason University in Fairfax, Virginia, and author of The Villa dei Papiri at Herculaneum: Life and Afterlife of a Sculpture Collection (Getty Publications, 2005), which won the prestigious Charles Rufus Morey Book Award.