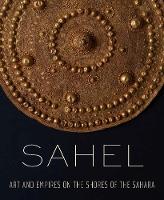 Sahel Art and Empire on the Shores of the Sahara Alisa LaGamma
Format:

Hardback

Publication date:

28 Jan 2020

ISBN:

9781588396877

Imprint:

Dimensions:

352 pages: 279 x 229mm

Illustrations:

300 color illus.
This groundbreaking volume examines the extraordinary artistic and cultural traditions of the African region known as the Sahel ("shore" in Arabic), a vast area on the southern edge of the Sahara Desert that includes present-day Senegal, Mauritania, Mali, Niger, Nigeria, and Chad. This is the first book to present a comprehensive overview of the diverse cultural achievements and traditions of the region, which span over 1,300 years—from the pre-Islamic period through the 19th century. It features some of the earliest extant art from Africa, as well as such iconic works as sculptures by the Dogon and Bamana peoples of Mali. Essays by leading international scholars discuss the art, architecture, archaeology, literature, philosophy, religion, and history of the Sahel, exploring the unique cultural landscape in which these ancient communities flourished. Richly illustrated and brilliantly argued, Sahel brings to life the enduring creativity of the different peoples who lived, traded, and traveled through this crossroads of the world.
 
Alisa LaGamma is Ceil and Michael E. Pulitzer Curator in Charge in the Department of Art of Africa, Oceania, and the Americas at The Metropolitan Museum of Art and author of the award-winning Kongo: Power and Majesty.
The Metropolitan Museum of Art, New York
(January 29–May 10, 2020)