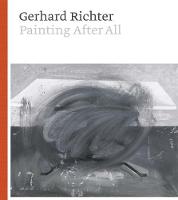 Format:

Hardback

Publication date:

10 Mar 2020

ISBN:

9781588396853

Imprint:

Dimensions:

320 pages: 267 x 241mm

Illustrations:

230 color illus.

Sales territories:

World
Categories:
Over the course of his acclaimed 60-year career, Gerhard Richter (b. 1932) has employed both figuration and abstraction as means to reckon with the legacy, collective memory, and national sensibility of post–Second World War Germany, in both broad and very personal terms. This handsomely designed book features approximately 100 of his key canvases, from photo paintings created in the early 1960s to portraits and later large-scale abstract series, as well as select works in glass. New essays by eminent scholars address a variety of themes: Benjamin H. D. Buchloh discusses the poignant Birkenau paintings (2014); Sheena Wagstaff evaluates the conceptual import of the artist's technique; Briony Fer looks at Richter's family pictures against traditional painting genres and conventions; Hal Foster examines the glass and mirror works; Peter Geimer explores the artist's enduring interest in photographic imagery; André Rottmann considers the impact of randomization and chance on Richter's abstract works; and Brinda Kumar investigates the artist's engagement with landscape as a site of memory. As this book demonstrates, Richter's rich and varied oeuvre is a testament to the continued relevance of painting in contemporary art.
Sheena Wagstaff is Leonard A. Lauder Chairman, Modern and Contemporary Art, at The Metropolitan Museum of Art. Benjamin H. D. Buchloh is Andrew W. Mellon Professor of Modern Art at Harvard University.
The Met Breuer, New York
(March 4–July 5, 2020)