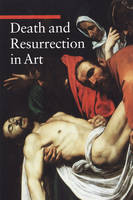 Format:

Paperback / softback

Publication date:

02 Apr 2009

ISBN:

9780892369478

Imprint:

Dimensions:

384 pages: 199 x 141 x 23mm

Illustrations:

featuring 400 full-colour illustrations
Categories:
This title presents a gloriously illustrated exploration of 3,000 years of the iconography of death and resurrection in world art. As one of the unavoidable realities of human existence, death is also one of the oldest and most common themes in art. From Egyptian tomb paintings and battles scenes on Greek vases by anonymous artists, to depictions of the crucifixion of Christ by Renaissance masters, to contemporary encounters with these subjects by artists such as Damien Hirst and Andres Serrano, this new volume in the "Guide to Imagery" series examines three-thousand years of the iconography of death and resurrection. While focusing on the Western artistic tradition, this volume also looks at many works of art from Asia, Africa, and Oceania as it explores depictions of death and resurrection - including violent death, ceremonial tributes to the departed, allegorical depictions, and the journey to the afterlife.
Enrico de Pascale is an art critic and art historian who has collaborated on numerous exhibitions with prominent international museums.