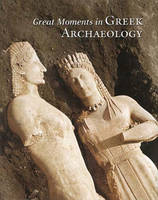 Format:

Hardback

Publication date:

07 Feb 2008

ISBN:

9780892369102

Imprint:

Dimensions:

384 pages: 329 x 256 x 34mm

Illustrations:

650 full-colour illustrations throughout
Categories:
This beautifully illustrated book offers a wide-ranging, yet detailed overview of the greatest archaeological sites and discoveries from ancient Greece - with contributions from both those who have excavated the sites and scholars who have spent a lifetime studying the monuments."Great Moments in Greek Archaeology" explores the legendary sites of ancient Greece, including the Athenian Acropolis, Olympia, and the Athenian Agora; the most iconic sculptures in the Greek world, such as the Aphrodite of Melos and the Nike of Samothrace; as well as several fascinating chapters on underwater archaeology of the Kyrenia and Uluburun shipwrecks and the astonishing bronze masterpieces raised from the sea.This is the first book to bring together the archaeological legacy of ancient Greece in a concise and accessible way while still preserving the excitement of discovery.
Panos Valavanis is an associate professor of archaeology at the University of Athens and the author of Games and Sanctuaries in Ancient Greece.