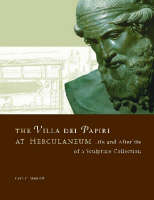 The Villa del Papiri at Herculaneum - Life and Afterlife of a Sculpture Collection . Mattusch
Series:

Format:

Hardback

Publication date:

31 Mar 2006

ISBN:

9780892367221

Imprint:

Dimensions:

390 pages: 311 x 238 x 42mm

Illustrations:

239ill.261col.ill.
The Villa dei Papiri at Herculaneum buried during the eruption of Mt. Vesuvius in A.D. 79, then rediscovered in 1750 contained a large collection of bronze and marble statuary and busts. Before they were published or exhibited, the sculptures were restored so as to appear whole: it is thus that they helped to shape early modern tastes in classical sculpture. Scholars have sought to assign names to the individual busts and statues and to discover a unified, planned sculptural program for the decoration of the Villa dei Papiri. Here, however, more objective questions are asked: Are the bronzes uniform enough in production technique and alloy or marble source to justify the notion of a single sculptural program? Did the owner of the Villa purchase the statues from one or from several sources?