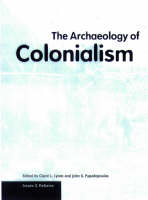 Format:

Paperback / softback

Publication date:

01 Jun 2002

ISBN:

9780892366354

Imprint:

Dimensions:

296 pages: 251 x 181 x 21mm

Illustrations:

90 b&w illustrations
Categories:
Few human communities have remained untouched by outsiders, in antiquity as in the present. Whether by intent or outcome, colonialist mentalities have significantly shaped the practices of archaeology, anthropology, and history. This book examines the material consequences of colonialism in nine essays by archaeologists, anthropologists, art historians, and historians. Applying current comparative and theoretical perspectives, they consider contexts ranging from the fourth millennium B.C. to the nineteenth century A.D., spanning cultures from the ancient Mediterranean to Oceania, West Africa, and Peru. The Archaeology of Colonialism opens with an essay by Claire Lyons and John Papadopoulos, followed by chapters on objects. Gil Stein demonstrates how archaeological evidence can be used to expose identity in writing systems and social rituals. Adolfo Dominguez assesses the strong Greek influence on Iberian sculpture and language from the sixth to the fourth century B.C. Kenneth Kelly raises two issues that are central to colonialism: the slave trade and resource exploitation versus territorial expansion. Next, the challenge of exploiting archaeological residues to the fullest is confronted by Peter van Dommelen in his study of Sardinia under Carthaginian and Roman rule. In part two, ideologies are pursued by Irad Malkin, who focuses on the interplay of myth and identity in Greek Etruscan interaction at two sites. Nicholas Thomas analyses colonially introduced styles of clothing among Samoan and Tahitian communities, viewing material culture and technology as central to the transformative work of colonialism. Tom Cummins looks at sixteenth-century Andean urban planning and kinship relations. Finally, looking at the Dutch East India Company settlement at the Cape of Good Hope, Stacey Jordan and Carmel Schrire provide a model for integrating all the kinds of evidence other authors rely on-artefacts, urban landscapes, visual imagery, archives, popular culture, and ethnographic analogy.
Claire Lyons is collections curator at the GettyResearch Institute. John Papadapoulos is associate curator of antiquities at the J. Paul Getty Museum. Getty Research Institute Issues & Debates series