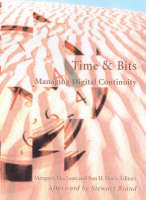 Format:

Paperback / softback

Publication date:

01 Apr 2000

ISBN:

9780892365838

Imprint:

Dimensions:

84 pages: 242 x 178 x 5mm

Illustrations:

24 b&w illustrations
Categories:
What are the long-term implications of relying on current digital technology to preserve our cultural memory? This is the question that framed a symposium at the Getty Center where leaders from industry, entertainment, and digital information technology focused on the critical issues of the fragility of digital media and our growing dependence on these new media. This volume, which includes the proceedings from discussions as well as chapters on our reliance on digital media, promotes the debate and resolution of these problems. Contributors include Stewart Brand, author of the Whole Earth Catalog; musician and artist Brian Eno; Kevin Kelly, senior editor at Wired Magazine; Danny Hillis, vice president of Disney; and other involved in digital technology, conservation, and reference.
Margaret MacLean is an independent consultant and the editor of Cultural Heritage in Asia and the Pacific. Ben H. Davis is electronic publications manager for Getty Trust Publications.