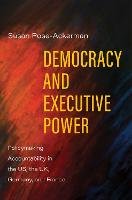 Democracy and Executive Power Policymaking Accountability in the US, the UK, Germany, and France Susan Rose-Ackerman
Format:

Hardback

Publication date:

25 Jan 2022

ISBN:

9780300254952

Imprint:

Dimensions:

424 pages: 235 x 156mm

Sales territories:

World
Categories:
A defense of regulatory agencies' efforts to combine public consultation with bureaucratic expertise to serve the interest of all citizens

The twenty-first century has witnessed an escalating conflict between executives and legislatures for control of regulatory policy-making. Susan Rose-Ackerman identifies common themes that place her four cases—the United States, the United Kingdom, Germany, and France—in a larger perspective. Some claim that once a statute is enacted, professional bureaucrats should carry out the law based only on the legal text and scientific expertise, without bringing in policy judgments. Rose-Ackerman rejects this model as unrealistic. Statutory language cannot plausibly resolve all the policy issues raised by regulatory initiatives. Inside the executive branch, technical competence and rigor are necessary but not sufficient. To promote legitimate, activist government, the public ought to be involved in policy-making inside the public administration and in independent agencies. The comparative case studies reveal how established democracies—both presidential and parliamentary, and with Continental and Common Law traditions—are responding to the rising demands for public accountability in the administrative process.
Susan Rose‑Ackerman is Henry R. Luce Professor Emeritus of Law and Political Science and Professorial Lecturer in Law at Yale University. She has published widely in the fields of law, economics, and public policy.
"Susan Rose-Ackerman has produced a valuable and insightful work that considers endemic issues of policy making accountability by the executive and the role of public participation in executive rule making in four countries."—Paul Craig, St John's College, Oxford
 

"Given the precarious state of popular trust in government across the globe, this exceptional exploration of how four advanced democracies pursue legitimacy in the bureaucratic implementation of regulatory law makes an invaluable contribution."—Peter M. Shane, author of Madison's Nightmare: How Executive Power Threatens American Democracy

"Capstone of Susan Rose-Ackerman's influential writings about comparative administrative law, her remarkable exploration of the democratic accountability of administrative governance in France, Germany, the UK and the US brings fresh and important understanding to the interactions among forms of government, the rule of law. and the contemporary urgency of maintaining democratic institutions."—Peter Strauss, author of Administrative Justice in the United States

"Democracy and Executive Power reflects decades of Susan Rose-Ackerman's profound thinking about how the rule of law, accountability, democracy, and participation relate to how most law is made in the world's four most influential legal systems. Her argument is at once pro-bureaucratic, pro-legal, and pro-democratic. The book is essential reading for those seeking to understand and reform executive rule-making in any democracy."—Jeff King, University College London