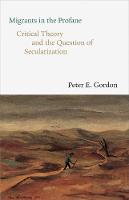 Migrants in the Profane Critical Theory and the Question of Secularization Peter E. Gordon
Series:

Format:

Hardback

Publication date:

12 Jan 2021

ISBN:

9780300250763

Imprint:

Dimensions:

208 pages: 216 x 140mm

Sales territories:

World
Categories:
A beautifully written exploration of religion's role in a secular, modern politics, by an accomplished scholar of critical theory

Migrants in the Profane takes its title from a well-known remark by Theodor W. Adorno, in which he offered a summary of the lesson conveyed in Walter Benjamin's image of the mechanical chess-playing Turk and its hidden religious animus: "Nothing of theological content will persist without being transformed; every content will have to put itself to the test of migrating in the realm of the secular, the profane."
 
In this masterful book, Peter Gordon reflects on Adorno's statement and asks an urgent question: Can religion offer any normative resources for modern political life, or does the appeal to religious concepts stand in conflict with the idea of modern politics as a domain free from religion's influence? In answering this question, he deeply probes the work of three of the Frankfurt School's most important authors: Walter Benjamin, Max Horkheimer, and Theodor W. Adorno. His illuminating analysis offers a highly original account of the intertwined histories of religion and secular modernity.
Peter E. Gordon is the Amabel B. James Professor of History and Faculty Affiliate in the Department of Germanic Languages and Literatures, and in the Department of Philosophy at Harvard University. His most recent previous book was Adorno and Existence.
"An extraordinary achievement."—Jürgen Habermas
"Gordon writes with a controlled power, elegance, simplicity, and clarity that is a rare pleasure."—Max Pensky, Binghamton University