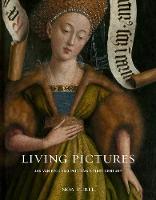 Living Pictures Jan van Eyck and Painting's First Century Noa Turel
Format:

Hardback

Publication date:

23 Jun 2020

ISBN:

9780300247572

Imprint:

Dimensions:

192 pages: 279 x 216mm

Illustrations:

95 color illus.

Sales territories:

World
Categories:
A significant new interpretation of the emergence of Western pictorial realism

When Jan van Eyck (c. 1390–1441) completed the revolutionary Ghent Altarpiece in 1432, it was unprecedented in European visual culture. His novel visual strategies, including lifelike detail, not only helped make painting the defining medium of Western art, they also ushered in new ways of seeing the world. This highly original book explores van Eyck's pivotal work and how viewers came to appreciate a world depicted in two dimensions. Through careful examination of primary documents, Noa Turel reveals that paintings were consistently described as au vif: not "from life" but "into life." Animation, not representation, drove van Eyck and his contemporaries. Turel's interpretation reverses the commonly held belief that these artists were inspired by the era's burgeoning empiricism, proposing instead that their "living pictures" helped create the conditions for empiricism. Illustrated with exquisite 15th-century paintings, this volume asserts their key role in shaping, rather than simply mirroring, the early modern world.
Noa Turel is assistant professor of art history at the University of Alabama at Birmingham.
"Living Pictures is an original and challenging contribution to one of the most important eras of Western painting, exploring how Jan van Eyck and his colleagues shaped a new pictorial vision and a new world understanding."—Victor Stoichita, author of The Self-Aware Image: An Insight Into Early Modern Meta-Painting
"Noa Turel's book generates a cluster of exciting new ideas. Providing original interpretations of canonical Early Netherlandish paintings, it promises to invigorate debates central to the field."—Laura Weigert, author of French Visual Culture and the Making of Medieval Theater