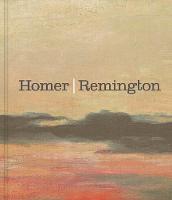 Format:

Hardback

Publication date:

14 Apr 2020

ISBN:

9780300246100

Imprint:

Dimensions:

224 pages: 279 x 241mm

Illustrations:

150 color illus.

Sales territories:

World
A groundbreaking comparison of two titans of American art

Winslow Homer (1836–1910) and Frederic Remington (1861–1909) represent a distinct strain of the American mythos: both were celebrated in their day as "self-taught" and "home-grown" artists whose work offered a vision of American identity rooted in self-reliance, vigor, and a deep connection to the wilderness. This revelatory book is the first to consider together the two artists, uncovering unexpected resonances between their themes, sensibilities, technical practices, and lives. Among other points of convergence, the book highlights the artists' formative years as war correspondents, their portrayals of masculinity and adventure, and their experimentation across different media.
 
Gorgeously showcasing paintings, sculptures, illustrated works, and watercolors—all recognizable as great works of American art—the book compares the artists' oeuvres under illuminating dual headings such as "The Wild East" and "The Business of Art." Four contextual essays take up these conceptual frameworks and more, while an introduction by celebrated critic Adam Gopnik situates the two artists within their respective biographies.
Margaret C. Adler is curator at the Amon Carter Museum of American Art. Jennifer R. Henneman is associate curator at the Petrie Institute of Western American Art at the Denver Art Museum. Diana J. Greenwold is associate curator of American art at the Portland Museum of Art. Claire M. Barry is director of conservation, and Peter Van de Moortel is assistant conservator, both at the Kimbell Art Museum. Adam Gopnik is a writer, essayist, critic, and staff writer for the New Yorker. Thomas Brent Smith is director of the Petrie Institute of Western American Art at the Denver Art Museum.
Denver Art Museum
(March 15–June 7, 2020)
Portland Museum of Art, ME
(July 1–September 27, 2020)
Amon Carter Museum of American Art, Fort Worth
(October 31, 2020–January 24, 2021)