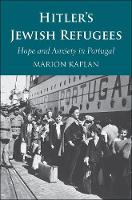 Hitler's Jewish Refugees Hope and Anxiety in Portugal Marion Kaplan
Format:

Hardback

Publication date:

11 Feb 2020

ISBN:

9780300244250

Imprint:

Dimensions:

352 pages: 235 x 156mm

Illustrations:

11 b-w illus.
Categories:
This riveting book describes the experience of Jewish refugees as they fled Hitler to live in limbo in Portugal until they could reach safer havens abroad. Drawing attention not only to the social and physical upheavals of refugee life, Kaplan highlights their feelings as they fled their homes and histories while begging strangers for kindness. An emotional history of fleeing, this book probes how specific locations touched refugees' inner lives, including the borders they nervously crossed or the overcrowded transatlantic ships that signaled their liberation.
Marion Kaplan is Skirball Professor of Modern Jewish History at New York University. She is the author of Between Dignity and Despair: Jewish Life in Nazi Germany and a three-time winner of the National Jewish Book Award.
"A superb social historian, Marion Kaplan adds the much-needed dimension of emotions to the history of Jewish refugees during the Nazi era, and opens fresh lines of investigation."—Deborah Dwork, author of Flight from the Reich