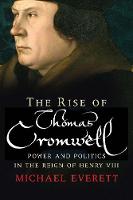 The Rise of Thomas Cromwell Power and Politics in the Reign of Henry VIII, 1485-1534 Michael Everett
Format:

Paperback

Publication date:

06 Sep 2016

ISBN:

9780300223514

Imprint:

Dimensions:

376 pages: 229 x 144mm

Illustrations:

16 b-w illus.

Sales territories:

World
How much does the Thomas Cromwell of popular novels and television series resemble the real Cromwell? This meticulous study of Cromwell's early political career expands and revises what has been understood concerning the life and talents of Henry VIII's chief minister. Michael Everett provides a new and enlightening account of Cromwell's rise to power, his influence on the king, his role in the Reformation, and his impact on the future of the nation.
 
Controversially, Everett depicts Cromwell not as the fervent evangelical, Machiavellian politician, or the revolutionary administrator that earlier historians have perceived. Instead he reveals Cromwell as a highly capable and efficient servant of the Crown, rising to power not by masterminding Henry VIII's split with Rome but rather by dint of exceptional skills as an administrator.
Michael Everett is a visiting fellow at the University of Southampton. He currently works at the House of Commons, London, and lives in Hampshire, UK.
'Everett depicts a most gifted administrator and top-level civil servant… [a] meticulous, well-researched and above all very readable book. '—Rev. Ed Standhaft, Methodist Recorder.

'This is revisionist history at its best, with Everett ready to challenge and dispel long-held beliefs… his fresh approach provides new insight into a man whose greatness seems to have been overestimated.'—Chris Skidmore, BBC History Magazine. 
"In this well-trodden ground, it's amazing how much scope there still is for serious revision. Everett engages all the previous scholarship on Cromwell, as well as having done original research in the National Archives to correct the dating of many items that appear in the Letters and Papers of the Reign of Henry VIII"—Patrick Madigan, Heythorp Journal
"Everett . . . offers a reinterpretation not only of Cromwell's significance, but also of the nature of politics at the Henrician court . . . A valuable contribution to the historiography of Cromwell's career."—Tracy Borman, American Historical Review
"An original and scholarly work that succeeds in providing a more multi-dimensional view of Cromwell, his rise to power, and the politics of the early 1530s more generally, by extension also raising serious about how the rest of the decade played out."—Jonathan Harris, Journal of British Studies
"Everett's arguments are authoritative and generally convincing, resting as they do on thorough and meticulous archival research, with the frequent re—dating of calendared letters indicative of his extremely impressive grasp of the sources."—Jonathan Harris, Journal of British Studies