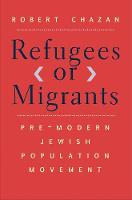 Refugees or Migrants Pre-Modern Jewish Population Movement Robert Chazan
Format:

Hardback

Publication date:

12 Feb 2019

ISBN:

9780300218572

Imprint:

Dimensions:

272 pages: 235 x 156mm
Categories:
A leading historian argues that historically Jews were more often voluntary migrants than involuntary refugees​

For millennia, Jews and non-Jews alike have viewed forced population movement as a core aspect of the Jewish experience. This involuntary Jewish wandering has been explained as the result of divine punishment, or as a response to maltreatment of Jews by majority populations, or as the result of Jews' acceptance of their minority status perpetuating the maltreatment and forced migration. In this absorbing book, Robert Chazan explores these various accounts, and argues that Jewish population movement was in most cases voluntary, the result of a Jewish sense that there were alternatives available for making a better life.
Robert Chazan is S. H. and Helen R. Scheuer Professor of Modern Jewish History and professor of history at New York University. He is the author of Anti-Judaism to Anti-Semitism: Ancient and Medieval Christian Constructions of Jewish History.
"Impressive and compelling. . . . Chazan has undertaken a major re-evaluation of one of the key themes in traditional Jewish history. It will most certainly be widely and thoroughly discussed and become a seminal work."—Benjamin Ravid, Brandeis University
 
"Robert Chazan is today the leading scholar of Medieval Jewish History. This book is an exemplary introduction to the study of Jewish History and will be of much interest and much use to Jewish and general readers."—Joseph Shatzmiller, Duke University
 
"This deeply learned exploration of millennia of Jewish history demonstrates that Jewish population movement often resulted from voluntary responses to complex and fascinating forces."—David Berger, Yeshiva University
 
"In this masterful, wide-ranging study, Robert Chazan confronts one of the central myths of Jewish self-understanding. Drawing on a lifetime of learning, Chazan shows that Jews, like most migrants, moved more often not out of compulsion but in the hope of bettering themselves."—David Engel, New York University