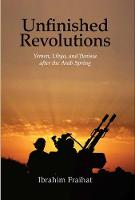 Unfinished Revolutions Yemen, Libya, and Tunisia after the Arab Spring Ibrahim Fraihat
Format:

Hardback

Publication date:

03 May 2016

ISBN:

9780300215632

Imprint:

Dimensions:

304 pages: 235 x 156 x 27mm

Illustrations:

5 b-w illus.

Sales territories:

World
Categories:
Post-revolution states often find that once a transition process begins, challenges can arise, such as political polarization and the threat of civil war. A respected commentator on Middle Eastern politics, Ibrahim Fraihat compares three countries grappling with political transitions in the wake of the Arab Spring: Yemen, Libya, and Tunisia. Fraihat argues that to attain enduring peace and stability, post-revolution states must engage in inclusive national reconciliation processes which include a national dialogue, a truth seeking effort, the reparation of victims' past injuries, dealing with the former regime, and institutional reform. Women, civil society, and tribes, among other social forces, can support the transition process. Fraihat's research shows how some aspects of transitions have been politicized and that each country has taken a specific approach, raising or diminishing the chances of civil war or a healthy transition.
 
This book is based on the original field research Fraihat conducted over three years in Yemen, Libya, and Tunisia. It is the result of over 200 interviews with key figures including senior government officials, heads of political parties, revolutionary youth activists, former regime loyalists, representatives of women's and civil society organizations, military and militia commanders, tribal leaders, and members of displaced communities.
Ibrahim Fraihat (formerly Ibrahim Sharqieh) is a senior fellow in foreign policy at the Brookings Institution's Doha Center and an adjunct professor at Georgetown University in Qatar, where he lives. He has published extensively on Middle East politics and received George Mason University's Distinguished Alumni Award for his achievements in the field of conflict resolution in 2014.
"Based on rigorous, on-the-ground research and conversations with hundreds of political actors, Ibrahim Fraihat has produced a unique political guidebook to the critical processes that will preoccupy Arab countries for decades—reconciliations, new social contracts, and transitions to democracy—on their elusive path towards stable and legitimate statehood."—Rami G. Khouri, Senior Fellow, Issam Fares Institute, American University of Beirut, and Harvard University
"Ibrahim Fraihat's treatise on reconciliation provides a unique and timely addition to our growing literature. Few scholars have attempted this level of quality research on reconciliation in the context of the Middle East and North Africa with such capacity to combine strong theoretical framing linked to grounded, longitudinal, and realistic lens. This book provides a brilliant addition that addresses significant gaps in our knowledge and understanding. I highly recommend this book for regional specialists, scholars of peace and reconciliation studies, and practitioners engaged in seeking sustainable social change in one of the most challenging regions across our globe."—John Paul Lederach, author of Building Peace: Sustainable Reconciliation in Divided Societies
"Ibrahim Fraihat has written the most constructive and thoughtful book available on the Arab Spring and current conflict in the Middle East. It deserves to be read by politicians, scholars, and students trying to make sense of one of the most devastating situations on earth. He offers direction in a confusing and directionless world."—Charles Villa-Vicencio, former National Research Director in the South African Truth and Reconciliation Commission
"Ibrahim Fraihat's book on the Arab uprisings, informed by extensive field work as well as theory, breaks new ground by tackling the immensely complicated problems of post-uprising transitions and reconciliation.  He applies several well-known approaches—national dialogue, truth-seeking, reparations, and accountability mechanisms—to the cases of Tunisia, Libya, and Yemen.  Focusing on the role of civil society, women, and tribes, he is commendably prudent in evaluating the effectiveness of these measures for completing their "unfinished revolutions."  I highly recommend it for students of conflict resolution, democratic transitions, and Middle East politics."—Michael C. Hudson, Professor of Arab Studies and International Relations, Emeritus, Georgetown University
"Ibrahim Fraihat explores the landscape of hope in the aftermath of the devastation of the Arab Spring. He offers a political guide to the possible in this well-researched book. With news reports focused on violence and  centrifugal forces that seem to pull Arab societies to the brink, Fraihat provides a possible antidote. This book shines an important light on efforts at reconciliations and new social contracts, a recognition that women have been integral to bringing about change. It is an important addition to the literature of the Arab Spring."--Deborah Amos, NPR's international correspondent covering the Middle East

"Ibrahim Fraihat's angle on the Arab Spring is national reconciliation writ large. This is a particularly appropriate lens through which he views Tunisia, Libya and Yemen, where social and political fragmentation have posed major risks and left the ultimate outcomes in serious doubt. His careful dissection of the issues in each place, based on extensive interviews, is an important and lasting contribution."--Daniel Serwer, Professor and Director of Conflict Management, The Johns Hopkins School of Advanced International Studies

"Fraihat offers an incisive, comparative analysis of the post-Arab Spring conflicts in three countries."—Choice