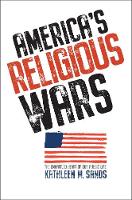 America's Religious Wars The Embattled Heart of Our Public Life Kathleen M. Sands
Format:

Hardback

Publication date:

13 Aug 2019

ISBN:

9780300213867

Imprint:

Dimensions:

352 pages: 235 x 156 x 25mm

Illustrations:

14 b-w illus.
Categories:
How American conflicts about religion have always symbolized our foundational political values
 
When Americans fight about "religion," we are also fighting about our conflicting identities, interests, and commitments. Religion-talk has been a ready vehicle for these conflicts because it is built on enduring contradictions within our core political values. The Constitution treats religion as something to be confined behind a wall, but in public communications, the Framers treated religion as the foundation of the American republic. Ever since, Americans have translated disagreements on many other issues into an endless debate about the role of religion in our public life.
 
Built around a set of compelling narratives—George Washington's battle with Quaker pacifists; the fight of Mormons and Catholics for equality with Protestants; Teddy Roosevelt's concept of land versus the Lakota's concept; the creation-evolution controversy; and the struggle over sexuality—this book shows how religion, throughout American history, has symbolized, but never resolved, our deepest political questions.
Kathleen M. Sands is professor of American studies at the University of Hawaiʻi at Mānoa and the author of Escape from Paradise: Evil and Tragedy in Feminist Theology.
"[Sands] writes of a long-standing conflict between 'anti-modernist religion and anti-religious modernism.'"—E.J. Dionne Jr., Washington Post
"A new way of framing public debate that transcends the culture wars and forces us to grapple with the complexities of the actual interests, identities, histories, and desires at stake. A welcome and timely contribution from a scholar at the top of her game."—Elizabeth Shakman Hurd, author of Beyond Religious Freedom: The New Global Politics of Religion
"This is an outstanding entry into the controversies surrounding religion in American life. Insightful, provocative, and accessible, it makes a powerful case for the obfuscation, ambiguities, even incoherence that stalk religion talk."—Linell Cady, Arizona State University
"Kathleen Sands transcends false dualism and instead charges us to use conflicts as opportunities to reveal the living principles, the living heart, of our shared democracy. Her timely analysis is a refreshing and principled contribution to American democracy."—Nathan C. Walker, co-editor of The Oxford Handbook of Religion and American Education
"In crystalline language and with a deeply informed historical sensibility, Sands traces the tangled intellectual roots of America's religious wars, showing what a dreadful and consequential mess Americans have made of one of their ostensibly deepest social values."—Robert Orsi, author of History and Presence