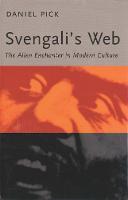 Svengali's Web The Alien Enchanter in Modern Culture Daniel Pick
Format:

Paperback

Publication date:

23 Sep 2014

ISBN:

9780300213836

Imprint:

Dimensions:

296 pages: 235 x 156mm

Illustrations:

36 b-w illus.
Categories:
Svengali, the malevolent hypnotist in a sensationally successful novel published by George du Maurier in 1894, became such a well-known character in the culture of the period that his name entered the dictionary as one who exerts a malign persuasiveness on another. This book explores the origins and impact of Svengali and his helplessly mesmerized female victim Trilby in an age already rife with discussions of race, influence, and the unconscious mind.

Daniel Pick points out that Svengali was a Jew as well as a dangerous hypnotist; his depiction struck a chord not only with pervasive nineteenth-century forebodings about irrational interpersonal forces and psychic contacts but also with prevalent anti-Semitic assumptions. He shows how Svengali became the quintessential dark hypnotist of the fin de siècle, whose image was recycled in pictures, drama, verse, and films. Pick not only discusses the work of mesmerists, hypnotists, and critics of entrancement but also relates tales of surrogate passion and psychological foreboding that feature opera singer Jenny Lind, composer Richard Wagner, politician Benjamin Disraeli, novelist Henry James, and others. The book identifies and illuminates a psychological and historical preoccupation—a cluster of Victorian ideas and images, fears and fantasies of psychic invasion and racial hypnosis that crystallized in the figure and phenomenon of Svengali.


Daniel Pick is a psychoanalyst and Professor of Cultural History at Queen Mary, University of London, and the author of War Machine: The Rationalisation of Slaughter in the Modern Age, published by Yale University Press. He is an editor of History Workshop Journal.