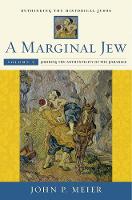 A Marginal Jew: Rethinking the Historical Jesus, Volume V Probing the Authenticity of the Parables John P. Meier
Series:

Format:

Hardback

Publication date:

14 Jan 2016

ISBN:

9780300211900

Imprint:

Dimensions:

464 pages: 235 x 156 x 33mm

Illustrations:

2 b-w illus.
Categories:
Since the late nineteenth century, New Testament scholars have operated on the belief that most, if not all, of the narrative parables in the Synoptic Gospels can be attributed to the historical Jesus. This book challenges that consensus and argues instead that only four parables—those of the Mustard Seed, the Evil Tenants, the Talents, and the Great Supper—can be attributed to the historical Jesus with fair certitude. In this eagerly anticipated fifth volume of A Marginal Jew, John Meier approaches this controversial subject with the same rigor and insight that garnered his earlier volumes praise from such publications as the New York Times and Christianity Today. This seminal volume pushes forward his masterful body of work in his ongoing quest for the historical Jesus.
John P. Meier is William K. Warren Professor of Theology (New Testament) at the University of Notre Dame and the author of A Marginal Jew: Rethinking the Historical Jesus. He has also written six other books and over seventy articles. At various times he has been the editor or associate editor of The Catholic Biblical Quarterly, New Testament Studies, and Dead Sea Discoveries.
"John Meier's refusal to belong to a particular 'school' of Gospels research is clearly evident in this latest volume in the Marginal Jew series. His remarkable erudition both in the primary sources and in the extensive secondary literature is palpable throughout. He is the very model of a sober and learned contrarian!"—Simon Gathercole, University of Cambridge
"The subject of the parables is one of the more daunting areas of historical Jesus research. Yet, with his characteristic wisdom and wit, John Meier guides us through the many parables that are attached to Jesus' name. Freely conceding that in many cases utter certainty will escape us, Meier shows us which parables are most likely from the lips of Jesus and why."—Gary A. Anderson, University of Notre Dame
"This book is a breath of fresh air—refreshingly forthright about what can and cannot be said about the parables attributed to Jesus. Meier shows that the parables can no longer be seen as the bedrock for reconstructing the historical Jesus. Yet four parables have a demonstrable origin in his teaching."—Adela Yarbro Collins, Yale University
"Seldom in the history of scholarship has one scholar so attractively combined both scientific and theological sophistication as does John Meier, one of our leading experts on the Historical Jesus. In this fifth volume of his definitive Marginal Jew series, Meier explores the authenticity of Jesus' parables."—James H. Charlesworth, Princeton Theological Seminary
"Father Meier's amazingly disinterested accounts of the career of Jesus will now include this subtle and astute exegesis of the parables."—Harold Bloom, Sterling Professor of the Humanities, Yale University