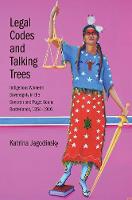 Legal Codes and Talking Trees Indigenous Women's Sovereignty in the Sonoran and Puget Sound Borderlands, 1854-1946 Katrina Jagodinsky
Series:

Format:

Hardback

Publication date:

26 Apr 2016

ISBN:

9780300211689

Imprint:

Dimensions:

352 pages: 235 x 156 x 25mm

Illustrations:

23 b-w illus.

Sales territories:

World
Categories:
Katrina Jagodinsky's enlightening history is the first to focus on indigenous women of the Southwest and Pacific Northwest and the ways they dealt with the challenges posed by the existing legal regimes of the nineteenth and twentieth centuries. In most western states, it was difficult if not impossible for Native women to inherit property, raise mixed-race children, or take legal action in the event of rape or abuse. Through the experiences of six indigenous women who fought for personal autonomy and the rights of their tribes, Jagodinsky explores a long yet generally unacknowledged tradition of active critique of the U.S. legal system by female Native Americans.
Katrina Jagodinsky is assistant professor of history at the University of Nebraska and a former fellow of the Clements Center for Southwest Studies at SMU. She lives in Lincoln, NE.
Winner of the 2017 Armitage-Jameson Book Prize given by the Coalition for Western Women's History.

"Legal Codes and Talking Trees is original and without comparison. I have yet to see a similar study that delves so deeply and widely in recovering the experiences of Native women in the U.S. legal system and broader society." —Miroslava Chavez-Garcia, University of California, Santa Barbara


"Using very original research, Jagodinsky's book offers us a paradox. How could legal systems in the North American West empower and enrich White men, ensnare and enslave Native women, but also enable some women to cut the ties that bound them?" —Anne Hyde, University of Oklahoma 


"Jagodinsky's engrossing stories of indigenous women who sought justice in colonial forums vividly illustrate how such legal contests served to define racial identities, women's status, Indians' options, and social boundaries in the American West." —Alexandra Harmon, author of Indians in the Making  


"Katrina Jagodinsky has done what I've long thought impossible: crafted a comparative history that is as much about people's lives as it is about social forces and legal structures. Legal Codes and Talking Trees establishes a new method for casting our eyes across borders and nations."—James F. Brooks, author of Mesa of Sorrows: A History of the Awat'ovi Massacre


"This is a beautifully written and remarkable book, ably researched and profoundly important.  Through six carefully chosen case studies, Legal Codes and Talking Trees inspires a new understanding of the meaning and nature of colonization and resistance." Lindsay G. Robertson, author of Conquest by Law: How the Discovery of America Dispossessed Indigenous Peoples of Their Lands



Winner of the 2017 Armitage-Jameson Book Prize given by the Coalition for Western Women's History.