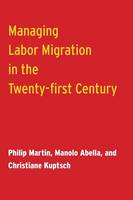 Format:

Paperback

Publication date:

01 Oct 2008

ISBN:

9780300209778

Imprint:

Dimensions:

240 pages: 235 x 156mm

Illustrations:

3 graphs

Sales territories:

World
Categories:
Why have ninety million workers around the globe left their homes for employment in other countries? What can be done to ensure that international labor migration is a force for global betterment? This groundbreaking book presents the most comprehensive analysis of the causes and effects of labor migration available, and it recommends sensible, sustainable migration policies that are fair to migrants and to the countries that open their doors to them.
The authors survey recent trends in international migration for employment and demonstrate that the flow of authorized and illegal workers over borders presents a formidable challenge in countries and regions throughout the world. They note that not all migration is from undeveloped to developed countries and discuss the murky relations between immigration policies and politics. The book concludes with specific recommendations for justly managing the world's growing migrant workforce.
Philip Martin is a professor at the University of California, Davis, and chairman of the UC Comparative Immigration and Integration Program. Manolo Abella is the head of the International Migration Programme of the International Labor Organization (ILO) in Geneva. Christiane Kuptsch is senior research officer at the ILO's International Institute for Labour Studies.
"This book offers a wealth of insights into managing labor migration, one of the greatest challenges facing nation states today."—Brunson McKinley, Director General, International Organization for Migration


"This remarkable book reflects decades of study and reflection by experts working with the International Labor Organization. The scope of the erudition and the authoritativeness of the analysis in Managing Labor Migration in the Twenty-First Century simply dazzle."—Mark J. Miller, University of Delaware and Editor, International Migration Review


"This is an important book. International labor migration is one of the most significant challenges of the 21st century, yet public discourse to date has been dominated by dubious analysis and interest group advocacy. The authors, three exceptionally well informed experts with no axes to grind, provide all of us with a refreshingly insightful and unbiased look at the many faces of migration."—Michael Teitelbaum, Sloan Foundation


"As the World Commission on the Social Dimension of Globalization pointed out, there are deep-seated imbalances in the current workings of the global economy, and some of them could be diminished through a better managed regime that eliminates exploitation of migrants. Managing Labor Migration in the Twenty-first Century sets out suggestions for cooperation to help ensure that labor migration reduces inequalities and contributes to our goal of decent work for all."—Juan Somavia, Director General of the International Labor Office