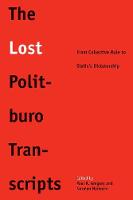 The Lost Politburo Transcripts From Collective Rule to Stalin's Dictatorship Paul R. Gregory, Norman Naimark
Series:

Format:

Paperback

Publication date:

21 Oct 2014

ISBN:

9780300209082

Imprint:

Dimensions:

288 pages: 235 x 156 x 23mm

Illustrations:

6 b-w illus.

Sales territories:

World
Categories:
In this groundbreaking book, prominent Western and Russian scholars examine the "lost" transcripts of the Soviet Politburo, a set of verbatim accounts of meetings that took place from the 1920s to 1938 but remained hidden in secret archives until the late 1990s. Never intended for publication or wide distribution, these records (known as stenograms in Russia) reveal the actual process of decision making at the highest levels of the Soviet communist party. The transcripts also provide new, first-hand records of the rise of Stalin's dictatorship.
The contributors to the volume explore the power struggles among the Politburo members, their methods of discourse and propaganda, and their economic policies. Taken as a whole, the essays shed light on early Soviet history and on the individuals who supported or opposed Stalin's consolidation of power.
Paul Gregory is Cullen Distinguished Professor of Economics, University of Houston. As a research fellow at the Hoover Institution, he directs the Soviet Archives Working Group. He lives in Bellaire, TX. Norman Naimark is Robert and Florence McDonnell Professor of East European Studies, Stanford University. He lives in Stanford, CA.
"The collection represents a significant contribution to the scholarship, offering new insights into the important topics discussed in each essay, topics that are of pivotal importance to our understanding of early Soviet history and the rise of the Stalin dictatorship."—Lynne Viola, University of Toronto