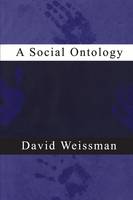 Format:

Paperback

Publication date:

05 Nov 2013

ISBN:

9780300206487

Imprint:

Dimensions:

400 pages: 235 x 156mm

Illustrations:

2 b-w illus.

Sales territories:

World
Categories:
Moral and social philosophers often assume that humans beings are and ought to be autonomous. This tradition of individualism, or atomism, underlies many of our assumptions about ethics and law; it provides a legitimating framework for liberal democracy and free market capitalism. In this powerful book, David Weissman argues against atomistic ontologies, affirming instead that all of reality is social. Every particular is a system created by the reciprocal causal relations of its parts, he explains. Weissman formulates an original metaphysics of nature that remains true to what is known through the empirical sciences, and he applies his hypothesis to a range of topics in psychology, morals, sociology, and politics.

The author contends that systems are sometimes mutually independent, but many systems—human ones especially—are joined in higher order systems, such as families, friendships, businesses, and states, that are overlapping or nested. Weissman tests this schematic claim with empirical examples in chapters on persons, sociality, and value. He also considers how the scheme applies to particular issues related to deliberation, free speech, conflict, and ecology.


David Weissman is professor of philosophy at City College of New York. He is the author of Truth's Debt to Value and the editor of René Descartes' Discourse on Method and Meditations on First Philosophy, both published by Yale University Press.

"This is a work in the grand manner. It is in the class of works by the great metaphysicians of the past. Weissman presents and defends a 'world hypothesis' to be considered alongside of those of the standard figures he criticizes."—Marshall Spector, State University of New York at Stony Brook