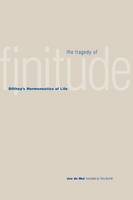 The Tragedy of Finitude Dilthey's Hermeneutics of Life Jos de Mul, Tony Burrett
Series:

Format:

Paperback

Publication date:

15 Jun 2014

ISBN:

9780300206401

Imprint:

Dimensions:

448 pages: 235 x 156mm

Sales territories:

World
One of the founders of modern hermeneutics, German philosopher Wilhelm Dilthey (1833-1911) confronted the question of how modern, postmetaphysical human beings can cope with the ambivalence, contingency, and finitude that fundamentally characterize their lives. This book offers a reevaluation and fresh analysis of Dilthey's hermeneutics of life against the background of the development of philosophy during the past two centuries.
Jos de Mul relates Dilthey's work to other philosophers who influenced or were influenced by him, including Kant, Schleiermacher, Hegel, Comte, Mill, Nietzsche, Husserl, Heidegger, Gadamer, and Derrida. Weaving together systematic analysis and historical investigation, de Mul begins the book with an account of the horizon on which Dilthey developed his unfinished masterwork, Critique of Historical Reason. The author then elaborates a systematic reconstruction of Dilthey's ontology of life, relates the ontology to the work of other twentieth-century philosophers, and positions Dilthey's thought within current philosophical debate.
Jos de Mul is full professor in philosophical anthropology, Faculty of Philosophy, Erasmus University, Rotterdam, The Netherlands.
Winner of the Praemium Erasmianum, the Netherlands' highest academic prize in human and cultural studies awarded by the Foundation Praemium Erasmianum

"A thorough, insightful account of Dilthey's philosophy, this book offers many valuable new contributions. De Mul argues effectively for Dilthey's relevance today."—Rudolf Makkreel, author of Dilthey and Phenomenology, Charles Howard Candler Professor and Chair of Philosophy at Emory University