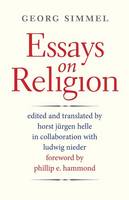 Format:

Paperback

Publication date:

08 Oct 2013

ISBN:

9780300205077

Imprint:

Dimensions:

244 pages: 210 x 140mm

Sales territories:

World
Categories:
The noted German sociologist and philosopher Georg Simmel wrote a number of essays that deal directly with religion as a fundamental process in human life. These essays set forth Simmel's mature reflections on religion and its relation to modernity, personality, art, sociology, psychology, philosophy, and science. They also include his views on methods in the study of religion and his thoughts on achieving a broader perspective on religion. Originally published between 1898 and 1918, the last twenty years of Simmel's life, the essays are collected here in English for the first time.

The essays provide an excellent picture of the development of the characteristic doctrines of Simmel's thought as applied to religion, based on phenomenological analysis of human experience that emphasizes the subjective dimensions of life. The collection shows that Simmel was interested less in the forms that religions take than in what he calls a "particular spiritual quality" or "attitude of the soul"--a feeling of religiousness that precedes the forms of religion and may later be projected onto them. Viewing religion as primarily a quality of social relationships that can be analyzed in various contexts, Simmel makes a unique contribution to the sociological analysis of religion, as well as offering valuable insights for scientific consideration.

Horst Jürgen Helle is professor of sociology and co-director of the Institute for Sociology at Ludwig Maximilian University in Munich and is the author or editor of more than ten previous books. Ludwig Nieder is assistant professor of sociology at Ludwig Maximilian University.