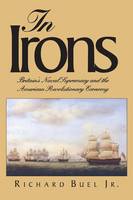 In Irons Britain`s Naval Supremacy and the American Revolutionary Economy Richard Buel
Format:

Paperback

Publication date:

03 Sep 2013

ISBN:

9780300204988

Imprint:

Dimensions:

416 pages: 235 x 156mm

Sales territories:

World
Categories:
A sailing ship that becomes stalled with its bow to the wind is said to be "in irons." In this groundbreaking examination of America`s Revolutionary War economy, the phrase is an apt metaphor for the inability of that economy to free itself from the constraints of Britain`s navy. Richard Buel Jr. here investigates for the first time the influence of Britain`s navy on the American revolutionary economy, particularly its agricultural sector, and the damage that Britain inflicted by seizing major colonial centers and denying Americans access to overseas markets.

Drawing on documents newly culled from American, British, and French archives, the author shows how the French alliance, naval operations in the Atlantic and Caribbean, military operations in North America, and the policies of state and continental authorities contributed to the collapse and then revival of the revolutionary economy. Buel places the American economy in international context and discusses how both Spain and France created the conditions—though sometimes inadvertently—that bolstered the economic survival of the infant republic.


Richard Buel Jr. is professor of history at Wesleyan University. He is the author of Dear Liberty and co-author of The Way of Duty. His book Securing the Revolution received a Pulitzer Prize nomination.


Winner of the 1999 Fraunces Tavern Museum Book Award sponsored by the Sons of the Revolution
Named an Outstanding Academic Title by
Choice
Magazine

"Buel's book is one of the most important studies of the Revolution that we have. With his customary imagination, resourcefulness, and precision Buel has brought together economic and military history in a manner that illuminates both. No one has pictured the problems of the Revolutionaries in quite this way before."—Gordon S. Wood, Alva O. Way Professor and Professor of History






"Buel`s subject—the economy of the newly established American Confederation during the Revolutionary War years and the central role of overseas commerce in that economy—has been neglected by both naval and economic historians. This important and original work helps fill the gap."—John B. Hattendorf, Ernest J. King Professor of Maritime History, U.S. Naval War College

"A major piece of scholarly work, this book is certain to have an impact upon the interpretation of this period."—Stanley L. Engerman, University of Rochester

"There is a surprise on almost every page of this remarkable book. No other historian in the field can match Richard Buel`s grasp of the economic side of the Revolution. He stitches his discoveries into the overall story of the war, giving us a new perspective on the drama of the nation`s founding."—Thomas Fleming, author of Liberty! The American Revolution