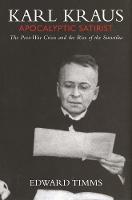 Karl Kraus: Apocalyptic Satirist, Volume 2 The Postwar Crisis and the Rise of the Swastika Edward Timms
Format:

Paperback

Publication date:

23 Jul 2013

ISBN:

9780300204605

Imprint:

Dimensions:

662 pages: 235 x 156mm

Illustrations:

50 b-w illus.

Sales territories:

World
In this second volume of Karl Kraus: Apocalyptic Satirist, Edward Timms takes up Kraus's story in November 1918, when the satirist responded to the creation of the new republics with a defiant hope, invoking international law against the dual threat of reactionary politics and irresponsible media. While contemporaries like Walter Benjamin regarded Kraus as heroically isolated, this book places him within a dynamic field of cultural production. Timms highlights the court cases Kraus pursued with his lawyer Oskar Samek and the theatrical projects that earned him Brecht's friendship.
In the final section of the book, the author refutes the legend that Kraus responded with stunned silence to Hitler's seizure of power. His career culminated in Third Walpurgis Night, an analysis of Nazi ideology that has proved enduringly influential. Timms concludes that Kraus's lifelong critique of the media, combining Orwell's political radicalism with Joyce's linguistic playfulness, incisively anticipates the propaganda techniques of our own age.
Edward Timms is Research Professor in History at the Centre for German-Jewish Studies, University of Sussex, and a Life Fellow of Gonville and Caius College, Cambridge. He is the author of Karl Kraus: Apocalyptic Satirist: Culture and Catastrophe in Habsburg Vienna, published by Yale University Press.
"Edward Timms meticulously interprets this major writer's most complex period of literary, cultural, and political activity, providing what amounts to an entire cultural history of the period."—Professor Gilbert Carr, Trinity College Dublin