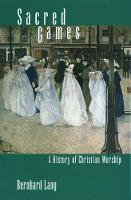 Sacred Games A History of Christian Worship Bernhard Lang
Format:

Paperback

Publication date:

26 Mar 2013

ISBN:

9780300198126

Imprint:

Dimensions:

542 pages: 235 x 156mm

Illustrations:

50 b-w illus.
Categories:
When contemporary Christians worship—be they Catholic, Protestant, Orthodox, or Pentecostal—they engage in a variety of ritual acts whose diversity and complexity may at first puzzle the observer. A closer look reveals that worship incorporates a limited number of major components that when repeated form the backbone of the ceremonies Christians enact when they meet on Sundays. This book focuses on six essential ritual forms: praise, prayer, sermon, sacrifice, sacrament, and spiritual ecstasy.

Bernhard Lang argues that the meaning of Christian ritual is embodied in these six elementary forms, all of which have their roots in ancient, pre-Christian ritual life. Each has its own constituents, dynamics, meaning, and distinct story. Accordingly, the book is divided into six interpretative sections that, using sources in French, German, and English and contrasting past experience with the present, European with American, and Catholic with Protestant, explain the meaning of each. Lang uncovers their ancient biblical roots and follows their course through history with special emphasis on biblical, historic, and contemporary forms.

This is a pioneering book and a major achievement: the first full-scale history and interpretation of a collective spiritual act fraught with meaning. Well illustrated, written in a readable style, and geared to the general reader as well as to students and scholars, it should become an indispensable addition to the broader study of Christianity.

Bernhard Lang is professor of religion at the University of Paderborn, Germany.